Exclusive
Khloe Kardashian's Hair Loss Caused By Stressful Divorce From Lamar Odom, Experts Say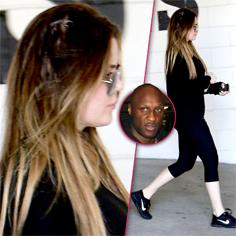 Khloe Kardashian's stressful divorce from her husband of four years, Lamar Odom, is taking a toll on the reality star's health.
After stepping out with a large bald patch on her head, fans began wondering if her thinning tresses were the result of long-term distress and anxiety -- and experts exclusively tell RadarOnline.com, the answer is YES!
"A major stress, such as divorce, can lead to a type of hair shedding called Telogen Effluvium, or stress shedding," cosmetic dermatologist Dr. Doris Day tells RadarOnline.com.
Article continues below advertisement
"This is a diffuse hair shedding that typically occurs about three months after the stress occurs, due to the nature of hair growth cycles," she notes, confirming that Khloe's marriage woes have been weighing on her for a long time.
GALLERY: They Really Did Say It! 50 Outrageous Kardashian Quotes
The Keeping Up With the Kardashians star has lost large clumps of hair, which can also be a sign of an autoimmune condition called alopecia areata, reveals Debra Jaliman, MD, author of the new book Skin Rules: Trade Secrets From A Top Dermatologist.
"Stress can cause hair loss, and with this condition, the hair follicles are attacked by the body," Jaliman says.
Thankfully, the hair loss can be reversed.
"It can be treated by injections of cortisone into the hair follicle. I also recommend using Rogaine for men once a day. Biotin can also be used. 2.5 mg a day… And hair can be seen to grow back in 1 to 3 months," Jaliman adds.
Neither doctor has personally treated Khloe.
Article continues below advertisement
Odom's alleged struggle with prescription drug abuse — namely the powerful opiate Oxycontin — and illicit drugs like cocaine and crack, also played a large role in their crumbling marriage.