Just Friends? Kirstie Alley Admits Kelly Preston Confronted Her Over Continued Flirtation With 'Greatest Love' John Travolta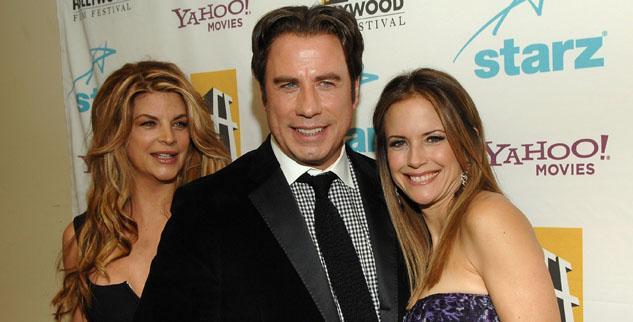 Article continues below advertisement
But when Stern pressed her about why she has such an attraction, she explained, "He's very gamey. He and I will sit around doing skits and acting stupid. He's not afraid to act stupid. He'll do dumb skits, is the best way to put it."
"He's a very generous person," she continued. He's every interested. If you ever talk to John, and this is genuine with him, you will become the most interesting thing that he's ever met in his life. He so wants to know who you are, what you've done. … He's really really interested in people. And he's obviously very handsome."
Alley says that sparks first flew between the pair when they were filming Look Who's Talking together in the 80s. "We both wanted to act on it, definitely," she said. But they held off since Alley was married to Parker Stevenson at the time.
Nevertheless, she told Stern, "It took me years to not look at John as a romantic interest. Now, I'm best friends with his wife Preston, and that took a while. Because in the beginning she would bust me, like, 'Are you flirting with my husband?' And the answer was yes."
Article continues below advertisement
But Stern refused to let all the gushing go without mentioning "the white elephant in the room," he said: rumors that Travolta is secretly gay.
Alley immediately blasted the persistent allegations, saying, "I've known John for 20 years. I know him so well. I also know when I moved to Hollywood, I was told that a couple of people were gay, one of whom that I was dating, and I knew that they weren't gay … It became a way to dismiss actors, or the thing you could say that people would disregard them in some way."
"I have three friends that I've been told are gay," she revealed. "And they're not gay. I know who's gay. I know who's bi. I know. You can't not know something for that long about someone."
As for reports that he sexually assaulted various men over the years, she insisted, "I think it's about money. … Because when he says, 'Ok, you're not getting any money. Go ahead and sue," they drop the suit. That's how I know that's true that he didn't do anything.'"
Alas, Alley says that no man has measured up to Travolta for a long time: She admitted, "I haven't had a boyfriend in 13 years."