Kirstie Alley: Love Affairs With John Travolta & Patrick Swayze 'Were Not Sexual'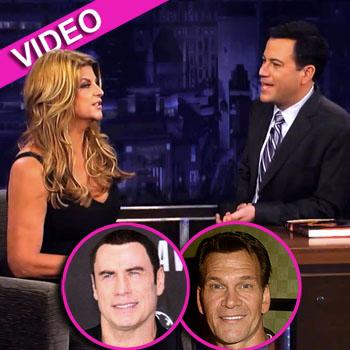 Kirstie Alley clarifies her recent revelations she fell in love with John Travolta and Patrick Swayze during the time she was married to Parker Stevenson on Jimmy Kimmel Thursday, and we've got all the details for you right here on RadarOnline.com.
Kimmel asked the Veronica's Closet star about the controversial admissions she made in her new book, The Art of Men (I Prefer Mine al Dente), and she emphasized that both of the deeply-emotional relationships never got physical.
Article continues below advertisement
"I didn't say the word affair, ever," Kirstie, 61, told Kimmel. "It wasn't sexual affairs."
She said that she fell in love with Travolta -- and he reciprocated -- while shooting the 1989 comedy Look Who's Talking, in which they played love interests of one another. (She added she has an excellent relationship with Travolta's wife, Kelly Preston.)
"It's a little hard not to confuse the boundaries," the actress said. "When you're on a set for six months, the lines get blurred. You see stars get divorced everyday because people DO have sex, Jimmy!"
Kirstie said that she kept her then-husband Stevenson aware of her feelings for the hunky leading men.
"He knew about it then -- I told him as we went along," she said. "I can't believe he didn't kill me. He should've...he hit me with a towel one day and I went down with a towel.
The Loverboy star said she debated acting like she was hurt, but says if the roles were reversed, "I would've kicked the f*** out of him!"
Article continues below advertisement
Watch the video on RadarOnline.com
Kirstie returns to the dance floor when Dancing with the Stars: All Stars continues Monday on ABC at 8/7c.