Kirstie Alley On Her Cocaine Addiction: 'I Thought I Was Going To Overdose Every Time'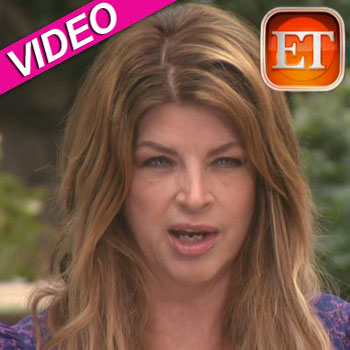 Kirstie Alley has opened up about her past cocaine habit that was so intense she feared it would kill her.
The Dancing With The Stars contestant spoke to Entertainment Tonight in an interview that will air on Wednesday evening.
Alley, who is promoting her new book The Art of Men (I Prefer Mine al Dente), admitted that she did "enough cocaine to kill several people."
The 61-year-old says: "I thought I was going to overdose almost every time… There was about a year's span that I did cocaine that I was doing it – you could say – more occasionally, on the weekend. Then my weekend became a three-day weekend, then it became four, then it became five.
Article continues below advertisement
"But I would do so much at a time that I would snort the coke and then I would sit there, I would take my pulse thinking: 'I'm dying, I'm dying, I'm dying.'
"Who would keep doing it? But it's such a weird, mind-trippy addiction."
Alley credits the controversial religion Scientology with saving her from the grips of addiction.
She says: "A friend of mine sent me this book. Most of my friends were drug addicts so they didn't send me books.
"But one of my friends who wasn't, was a Scientologist and she sent me Dianetics by L. Ron Hubbard. Somehow I got through it and I thought: 'This is either the world's biggest scam or this is how I'm going to get rid of this hideous compulsion that I have.'"
Alley has been very candid about her life recently. As RadarOnline.com previously reported, the Cheers actress claims she fell in love with late actor Patrick Swayze while filming the TV mini-series North and South.