Exclusive
Charlie Sheen Back On Crack! 'He's Snorting & Smoking Cocaine Every Day,' Says Source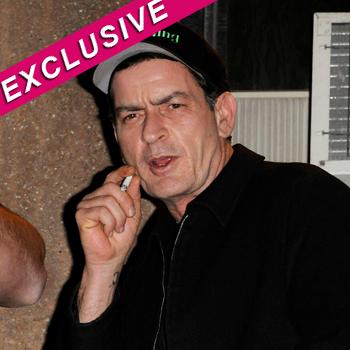 By Amber Goodhand - Radar News Editor
They don't call him Teflon Charlie for nothing!
Hard-partying Charlie Sheen is back to his old ways, snorting cocaine and smoking crack on a daily basis, RadarOnline.com is exclusively reporting.
An inside look at Charlie's daily life from a close source who spent nearly every day with the Anger Management star reveals a lifestyle riddled with drugs, alcohol and high-end escorts.
Article continues below advertisement
"For at least the last eight months or so Charlie has been having a quarter to half an ounce of cocaine delivered to him every single day and was spending nearly $2,000 a day on drugs. Sometimes he'd even get two to three quarters of cocaine in one day," the insider exclusively told RadarOnline.com.
"He snorts it, he smokes it, and then he watches porn. And when he's not watching porn, he's hired high-end girls to come over."
According to the source, Charlie fancies one girl in particular and sometimes pays her a whopping $25,000 per night to be with him — and that's not all.
"This one girl that Charlie really likes had insecurities about her vagina so she begged Charlie to get her a vaginal rejuvenation surgery to make it prettier," the source said.
"And he did. He got her the surgery, and he also bought her a new car."
Charlie keeps a close group of people around him when he's partying, and the source says he favors cooking the cocaine to make crack so he can smoke it.
Article continues below advertisement
"When Charlie gets his coke he immediately cooks it with baking soda in his bathroom to make crack," the source said.
"Then he smokes it out of a makeshift pipe that he made out of a Fiji water bottle! He'd get so high he was just absolutely out of his mind, mumbling incoherently and tweaking. Then he would just space out, not talk to anyone, and watch porn."
The source says Charlie also throws around money like it grows on trees, just because he can.
"Sometimes he'd give his friends that party with him a grand or two just because he thought they were cool," the insider revealed.
"And he always offered to share his drugs. He just wanted everyone to join in the party. There were always a bunch of young girls and random guys around."
In a world exclusive, RadarOnline.com challenged Charlie to a drug test in February, 2011, after a very public meltdown when he claimed he was clean — and he passed — but as previously reported this summer, Charlie has been partying up a storm while not filming his new FX series.