Hollywood's Biggest Trainwrecks! 12 Stars Who Made 'Hot Mess' History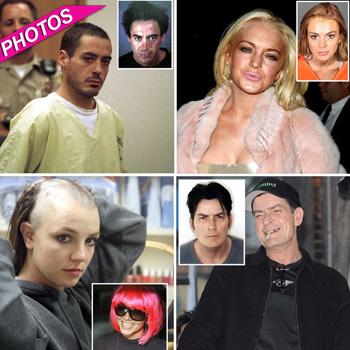 Hollywood stars are no strangers to derailing before the public eye!
From the sexiest singers and reality stars to big screen bombshells and hunks, several celebs have come undone in the public eye due to such factors as drugs, alcohol, anger issues and domestic disputes, landing themselves in dreaded places like jails, institutions and in front of the judge. RadarOnline.com has photos and details about the 12 biggest trainwrecks in Hollywood hot mess history.
Article continues below advertisement
From child stars to messy adults! With her recent arrests and bizarre behavior, Amanda Bynes recently joined the ranks of Lindsay Lohan and Britney Spears in the hot mess hall of shame. While Lohan has visited multiple rehabs, courtrooms and jail cells during her reign in Hollywood, Spears suffered a brief hot mess moment went she unraveled before the public eye.
Charlie Sheen and Sean Penn were both part of the famous Hollywood Brat Pack of the 1980s, notoriously causing trouble on the town with their wild antics – and though both critically acclaimed actors have slowed down their bad boy ways, they definitely still have their moments.
American Pie star Tara Reid had a bright future ahead of her early in her career, but the blonde beauty chose to put her social life ahead of her career. When all her movie roles dried up, she landed an ill-fated reality show about her Wild life and then did a brief stint in rehab, but still seems to be enjoying her jet-setting life of partying more than her career.
Which other stars have made hot mess history? Find out by clicking here.