Charlie Sheen: 'I Don't Believe In Rehab Anymore'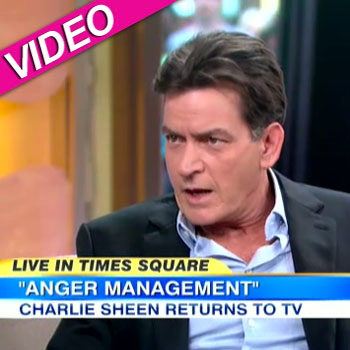 Charlie Sheen says he's drug-free -- and didn't need rehab to do it.
The sometimes erratic actor, promoting his new TV series Anger Management, appeared cool and collected in his appearance on Good Morning America Monday, as he said he's not using drugs anymore.
Asked if he's still drinking, Charlie said, "Who doesn't? We live in a country where it's always Miller Time. It's always happy hour somewhere in the world!"
Article continues below advertisement
When asked if drinking was a sound approach considering he's been to rehab before, Charlie said, "I don't believe in rehab anymore, it's not for me," adding rehab is just not a "one-size-fits-all" cure-all for substance abuse.
As for his new show, Charlie said the chemistry on the set has been great, adding, "There hasn't been an odd moment there … but there's always tomorrow."
Charlie got into the memorable media blitz he conducted during his long and nasty divorce with CBS and Two and a Half Men creator Chuck Lorre, saying, "My biggest regret is going a little too far."
"I was vocal about people I shouldn't have been so vocal about," Charlie added. "I'm grateful we're able to sit here and talk about it. It is odd to look at the clips and some of the stuff and say, 'That was me.'"
As far as the situation surrounding he and his five children, Charlie said, "I can't really talk about the custody stuff, I don't really like to talk about that."