Charlie Sheen Laughs Off 'Cringeable' Meltdown, Admits He Still Drinks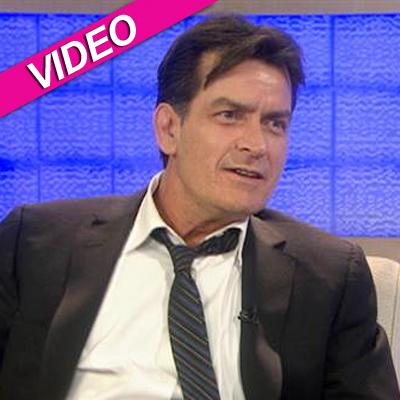 Charlie Sheen laughed off his very public meltdown last year during an interview with Matt Lauer on Thursday's Today show, and indicated that despite his battle with addiction, he still does occasionally drink.
"I'm going to start off with something that's going to sound awful at first, but bear with me, okay?" Lauer told Sheen. "There were people who probably last year at this time were the place to bet that you might not even be around -- and I mean, literally."
Article continues below advertisement
Sheen joked, "I would support that, sure -- I would have taken that action!"
Sheen said some of his antics during last year's media blitz were "cringeable," but "looking like a real insane wordsmith was fine."
Lauer ran down a list of different projects Sheen's been tied to since his parting from Two and a Half Men, including his new sitcom Anger Management and roles in commercials and the upcoming movie, A Glimpse Inside the Mind of Charles Swan III.
Sheen said after he parted ways with CBS, he "didn't really have a plan.
"I was just -- I guess the plan was to just reintroduce myself to America and to the media and just say, 'Sorry about that. But here's what's happening now.'"
Asked about his oft-discussed partying, Sheen conceded he still has a drink every now and again.
Lauer said, "You've admitted issues with drugs: I don't know one addiction specialist who would tell a guy in your position, 'It's okay to drink."
Article continues below advertisement
"Well, if you do, I should probably go to that guy!" Sheen joked. "I have different theories about the whole thing: One of them is, 'Park near the VIP exit!'"
Sheen, who noted his disdain for recovery groups during his diatribes last year, said "I don't believe that whole -- that whole piece of fiction that they insist that you have an allegiance to it, you know. But that's just me -- that's just me."
Asked if his Anger Management producers have made him agree to any stipulations regarding substance abuse, Charlie joked, "There's no testing unless, you know, something obvious happens, I show up covered in blood, somebody else's.
"No, but -- and there's clauses in any contract ... they're getting pretty serious about it. Well, there's so much money at stake these days. I don't blame them."
Article continues below advertisement
Asked about his pointed comments toward his replacement Ashton Kutcher in media reports, Sheen conceded he harbors a few hard feelings at the way his Two and a Half Men stint wrapped up, including his character's storyline death.
"A little bit, but I've got to just work through that, you know. I could probably just do it in group on my show. Just not out loud," he said. "I just wish they had taken better care of the child left behind, you know, coddled it a little more."