Two And A Half Men Teen Star's Family Murder Secret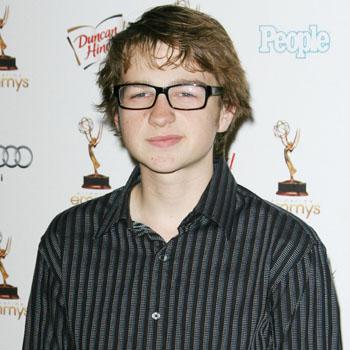 As the wise-cracking kid in Two And A Half Men, Angus T. Jones has long been the highest paid child star on TV, but behind the huge Hollywood pay check is a dark family secret that would shock even former co-star Charlie Sheen.
In 1995, 19-year-old Angus' uncle Eric Eugene Claypool was convicted of shooting a man he claimed sexually abused him as a teenager and is now serving a 99-year prison sentence in Texas, reports the National Enquirer.
Article continues below advertisement
According to prison documents, on November 16, 1994, Claypool, now 38, stole a .357-magnum from 31-year-old Jay Harlan and shot him in the back of the head.
This isn't the first time Angus has been embarrassed by his family and their run-ins with the law.
His mom, Carey Jones – Claypool's sister – was arrested in 1992 for drunkenly ripping the meter out of a taxi and then punching a cop in the face on the way to jail. Five years later, she was arrested on a bizarre burglary charge after a woman woke up at 4 a.m. to find Carey in her living room wearing a pair of shorts owned by the woman's live-in boyfriend.
Meanwhile dad, Kelly, was arrested in 1986 for possession of marijuana and carrying an unlicensed .45-caliber handgun after he caused a disturbance outside an Austin, Texas bar. In 1997, Carey had Kelly arrested when she accused him of pulling her out of a car and pushing her to the ground.
"Angus was mortified when his parents' shady pasts were uncovered and fans found out that they've both been arrested multiple times," said a family friend of the 19-year-old, who signed a contract in 2010 to earn a staggering $300,000 an episode.
MORE ON:
hollywood happenings
Article continues below advertisement