Kirstie Alley Claims 'John Travolta Was The Love Of My Life!'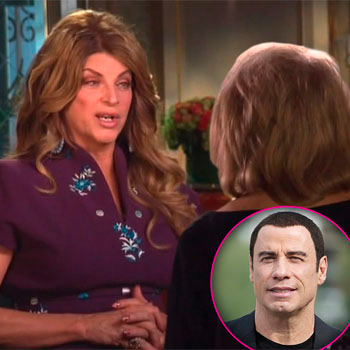 Article continues below advertisement
"It took all the power I had" not to run off with him when they shot the comedy together in 1989, the 61-year-old Dancing With The Stars contestant confessed.
Twice-divorced Alley fought off the dynamic attraction with the man she calls "the love of my life" for two more sequels in the Look Who's Talking series, meanwhile Travolta married Kelly Preston and the couple went on to have three children together.
Despite never sealing the deal in the bedroom, the pair has remained close friends thanks to their mutual devotion to Scientology.
The full interview with Kirstie Alley airs on ABC's 20/20 at 10 p.m. Friday.
RELATED STORIES:
Two Couples Score Perfect 30s On Country-Themed Dancing With The Stars: All Stars
Bristol, Kirstie, Or Apolo? Who Got The Boot On Dancing With The Stars
Kirstie Alley Weighs In On Lady Gaga's New Curvy Figure
Who's Back For More? "Dancing With The Stars: All-Stars" Preview!