Kirstie Alley's Surprising Confession: 'Patrick Swayze & I Fell In Love'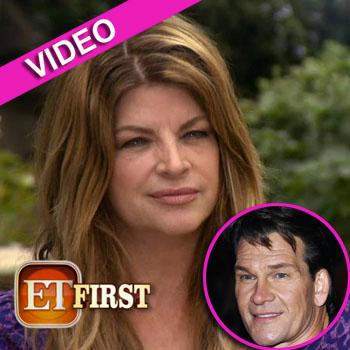 In a surprising confession, Kirstie Alley says she and Patrick Swayze fell in love during filming of the 1985 Civil War mini-series North and South, but she says because they were both married to other people at the time, they technically did not "have an affair."
The 61-year-old Emmy Award winning actress, who's currently competing on ABC's Dancing with the Stars, made the revelation to ET's Chris Jacobs during an interview that aired Monday night.
Article continues below advertisement
Alley says she and Swayze felt an intense attraction and began an intense emotional relationship during the shoot. At the time, Alley was still with her second husband, actor Parker Stevenson, whom she divorced in 1997, and Swayze was married to his long-time love Lisa Niemi.
Alley says she tried to avoid "going down that road," but that they ultimately fell in love.
"Both of us were married. We did not have an affair. But again, I think what I did was worse. Because I think when you fall in love with someone when you're married, you jeopardize your own marriage and their marriage. It's doubly bad," Alley said.
As RadarOnline.com previously reported, Lisa lost Patrick, her husband of 34 years, to pancreatic cancer on September 14, 2009.
Alley told ET she's still friends with Swayze's widow, but she doesn't know if Niemi is aware of their relationship. (Niemi asked Alley to speak at his funeral.)
Last week, Alley dropped another bombshell, telling ABC's Barbara Walters that John Travolta -- her co-star on 1989's Looking Who's Talking -- was the "greatest love of my life" and that she wanted to "run off and marry John" during the shoot.