Exclusive
Can A Leopard Change Its Spots? Infamous Drug Addled Blogger Cat Marnell 'Is Considering Sobriety'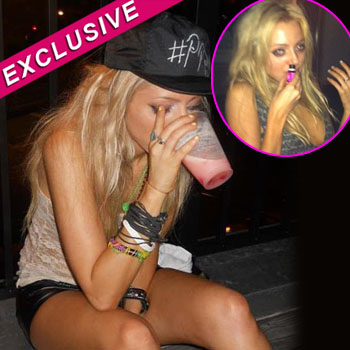 By Debbie Emery - RadarOnline.com Reporter
After explicit drug abuse and a devil-may-care attitude catapulted Cat Marnell into notoriety, the infamous Vice blogger may soon be hanging up her crack pipe for good, RadarOnline.com has exclusively learned.
"She has been f**king up career-wise and considering sobriety," said a close friend of the former Conde Nast and xojane.com beauty editor, who traded in her professional title after years of working her way to the top for the sake of a drug-fueled social scene that kept her up all night at Manhattan hot spots.
Article continues below advertisement
"She is in a boozy, druggy, dysfunctional relationship with a fellow journalist but he is now encouraging her to sober up," the insider told RadarOnline.com.
However, followers of 30-year-old Cat's nefarious adventures shouldn't expect her to suddenly swap her prescription pill habit for a healthy life of yoga classes, vegan food (or any food!), juice cleanses and eight hours sleep a night – as Marnell has lied before about heading for the straight and narrow.
"She's pretending to clean up her act but it's all a joke. Her being sober is not true," a close pal of Cat's told RadarOnline.com in September after she had vowed to ditch Manhattan for Los Angeles and make a new start.
Within a month, the self-confessed drug addict was back in the Big Apple causing mayhem again.
On October 11, she was booted out of the Paper Nightlife Awards at Webster Hall after rowdy friend and graffiti artist Remo jumped on stage and grabbed the microphone. With a gash of purple lipstick splashed across her face and dramatic cat's eye make-up smudged down her cheeks, Cat was politely asked to leave and take her rambunctious crowd with her.
Article continues below advertisement
While many ponder the current fate of Vice's star columnist, Cat has opened up about the origins of her in-depth drug addiction in a new interview with the December issue of Elle UK.
"I was a drug addict and had been since my mid teens when my psychiatrist dad started sending prescription medications to my private school. I was struggling with my studies but with the help of stimulants such as Ritalin, I went from practically failing to straight As," revealed Marnell in an essay for the glossy magazine.
She later became a "doctor shopper" while living in New York City and manipulated a collection of psychiatrists to give her legal speed such as Adderall, Dexedrine, Vyvanse and Ritalin, to fuel her career first as a star assistant then writer and editor.
Tortured by deadlines and cover stories she couldn't seem to finish, "I'd force myself to gorge on a cocktail of tranquilizers, benzodiazepines, and sleeping pills. Then, when those stopped working, on alcohol, painkillers and anti-psychotics," revealed Cat.
Article continues below advertisement
Estranged from her family and with her parents getting divorced after 29 years, "What was stopping me?" Cat asked, revealing how she had no time for friends, a love life, and least of all housework, revealing how someone once walked into her chaotic studio apartment and declared it was, "The kind of place you'd expect to find a body."
"A typical evening at home would be spent tweaked out on speed, Xanax, coke or sleeping pills staring into my bathroom mirror putting on make-up for four hours," said the young woman who couldn't even concentrate on watching TV.
"It was only a matter of time that I'd end up at the loony bin. Without nutrition, sleep or even hydration – all I drank was coffee – I was always strung out and light-headed," she revealed in a startling self-description. "At 90 pounds with literally green skin, I was mutant-looking."
Cat was eventually told by her boss in the fall of 2008 she needed to check into a hospital immediately, to which she responded by popping eight Xanax then entered the psych ward at the New York City Hospital when she woke up.
Article continues below advertisement
Under the doctors' watchful eye, she was "suddenly off drugs for the first time in years and with nothing to do but catch up on sleep and concentrate taking care of myself… I spent half an hour in the shower everyday combing the knots out of my hair."
After two weeks, she gained weight, got her color back in her cheeks and received the diagnosis of "poly substance addiction" that landed her in the only rehab in the city covered by her insurance, which she calls a "dump."
She went back to work but quit her job within a month. "It wouldn't be true to say I have stayed drug-free," admits Cat four years later.
"Just because I didn't do much partying doesn't mean I've cut down on my prescription drugs. But I promise you I am getting better, I am growing," she reveals, while explaining it is "liberating" to write with abandon about drug abuse.
"Whenever I feel I can't go on, I seriously take a shower. It's not an easy life for a pill head, but I am getting better all the time," she promised.