American Student In Italy Accused Of Stabbing Roommate 25 Times After Drug Binge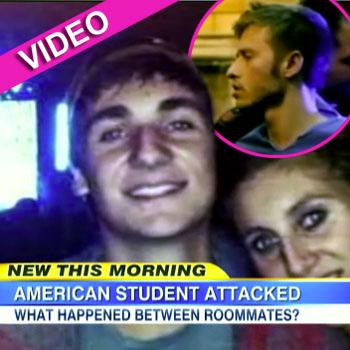 In a story reminiscent of the Amanda Knox saga, an American studying in Italy has been arrested in connection with attempted murder, accused of stabbing his roommate 25 times after a booze- and drug-addled Halloween night out.
Officials say student Reid Alexander Schepis, 20, stabbed then-sleeping pal Fabio Malpeso, 19, after a long night of partying at the Rome club, Atlantic. Both of the men are from New Jersey, and students at John Cabot University, a private American university in Rome.
Article continues below advertisement
Schepis told investigators he experimented with drugs -- specifically, ecstasy -- for the first time the night of the incident, mixing it with booze. He said he cannot remember what happened on the night of the stabbing, as authorities say he walked into the room Malpeso was sleeping in, and stabbed him over and over with a kitchen knife.
Vincenzo Comi, who is representing Schepis, said the student was "profoundly upset" in the wake of the violent incident, and tearily apologized "for what he had done" when confronted about it.
"Fabio and Reid were the best of friends," the attorney told NBC News. "They were both in their second year of university but knew each other from before. Even their parents knew each other."
Malpeso remains hospitalized in the intensive care unit after doctors operated on damage to his lungs in the incident.
"He is obviously still under observation but he is awake and talking," Police Chief Lorenzo Suraci told the network. "He even asked about the situation and what is happening."
Article continues below advertisement