Exclusive
Judge Orders Kim Kardashian & Kris Jenner To Appear For Deposition In Lawsuit Against Ex-Stepmom; Reality Stars To Be Grilled About Alleged 'Staged Scenes & Plot To Smear Dad's Ex-Wife'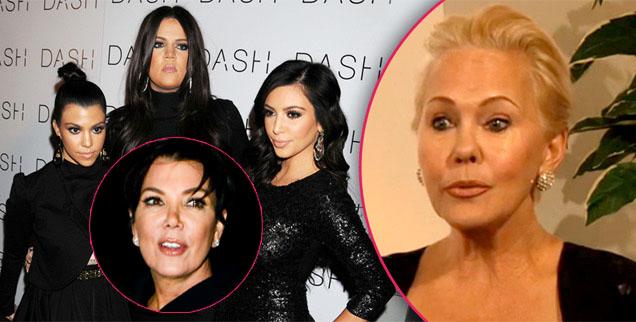 A Los Angeles judge has sensationally ordered Kim Kardashian, her famed siblings and momager Kris Jenner to sit for depositions in the multi-million dollar legal battle against their ex-stepmom, RadarOnline.com has exclusively learned.
The besieged reality stars will be questioned about whether they filed a lawsuit against Ellen Kardashian purely as a storyline for their E! show and then staged scenes in order to build drama around it, a source revealed.
Article continues below advertisement
The Kardashians are suing Ellen — who married the Kardashian children's father, Robert, two months before he died of esophageal cancer in 2003 — for $500,000 in damages, claiming she sold their belongings to a number of magazine publishers.
In response, Ellen filed her own suit accusing her ex-step children of a litany of civil offenses, including defamation, intentionally inflicting emotional distress, a civil conspiracy to defame and the public disclosure of private facts.
"It's always been Ellen and her lawyers belief that they will be able to prove the the storyline was orchestrated," a case insider explained.
"Their answers at these depositions could reveal whether any of the dialogue and discussion in key Keeping Up With The Kardashians scenes were scripted and staged and whether there was a plot to smear their dad's ex-wife."
Article continues below advertisement
Staff from Bunim-Murray, the producers behind Keeping Up With The Kardashians, will also grilled.
In the judge's order handed down on Christmas Eve — obtained exclusively by RadarOnline.com — the motion to conduct "limited discovery" was granted.
"This motion means Ellen's lawyers will get to depose Kim Kardashian along with her sisters Kourtney, Khloe and possibly their brother Rob, depending on what surfaces from the sisters' and mom Kris' deposition," the source added.
As RadarOnline.com previously reported, lawyers also want email and text message traffic between producers and the Kardashian-Jenner clan which could detail "when the storyline came up, who brought it up, what was discussed, whom communicated to whom and when the scenes were filmed."
Said one source: "Text messages and emails between members of the family, Kris' team, producers of the show, writers and E!, plus their production notes, will be crucial to proving their case.
MORE ON:
Keeping Up With the Kardashians
Article continues below advertisement
"It will provide a narrative of how the episode and legal situation all came together behind-the-scenes.
"Ellen's lawyers will therefore be demanding the pre-trial discovery phase cover text message and email traffic between all the key players and family members. They believe this communication will show that producers and the Kardashians concocted a storyline of the Kardashian kids coming to the aid of their mother Kris."
This is not the first time the Kardashians have faced a challenge about how "real" their reality shows are: Kim's ex-husband, Kris Humphries, threatened to expose how scenes were filmed on a soundstage in Los Angeles, yet presented as having taken place two months before during a business trip in Dubai.
What's more, in a deposition, Russell Jay, a Kardashians' producer, admitted at least two scenes were "scripted, reshot or edited" to make the NBA star look like the villain after Kim, 32, decided she wanted a divorce after 72 days of marriage.
Article continues below advertisement
At the crux of Ellen's countersuit is episode two of the last season of KUWTK during which she was labelled a "slippery snake."
"Ellen's lawyers believe the evidence they uncover from the opposing party will prove that many of the defamatory statements made by the Kardashian siblings and Jenner about Ellen were scripted or discussed prior to being recorded," the source said.
As RadarOnline.com was first to report, Ellen blasted her former relatives in her blockbuster lawsuit, saying they do not have "meaningful careers or professions" and instead "subsist on exposing their perverse private affairs to the world, including "unorthodox sexual acts, extramarital affairs, sex tapes and out of wedlock child birth."
"The series follows the often sordid, decadent and scandalous lives of the Kardashians," her lawsuit stated.
"The series' phenomenal success is based on a basic premise embraced by the Kardashians in general and Kris Jenner in particular — to expose their outlandish and controversial activities to world-wide television viewers for commercial profit.
"The success of the series is predicated entirely on the revelation of private information of the most salacious variety, the degree and nature of which must escalate in order to maintain public interest."
Ellen is represented by Arnold Peter and Marcus Lee with Peter Law Group, while the Kardahsians and Jenner have retained one of Hollywood's most powerful lawyers, Marty Singer.