What Reality? Kardashian TV Show Scripted From Magazine Articles That Reveal Their Secrets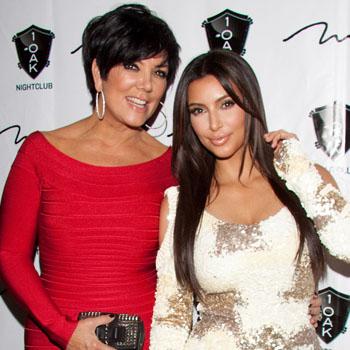 The Kardashians sure know how to capitalize on negative publicity — make it a storyline on their hit reality TV show!
Using reports from last year that Kardashian matriarch Kris Jenner and her hubby Bruce were having marital problems, the season premiere of Keeping Up With The Kardashians kicked off with a storyline focusing on the "mutual" idea of Bruce moving out of the family home so he could have his own space.
Article continues below advertisement
That's just one example of the show creating scripts out of family secrets that were first revealed by news outlets.
"Maybe lonely would be good," Bruce told his sons Brody and Brandon Jenner and Rob Kardashian while house-hunting with them during the premiere episode.
But Khloe Kardashian wasn't a fan of the idea prompting her mother Kris to tell her, "Until you've been married for 23 years, don't judge our relationship."
Bruce eventually finds a place in Malibu and Kris decides she misses him and wants him home, so after a little romancing the two rekindle and repair their relationship.
Reports surfaced last year in several magazines, touting trouble between Bruce and Kris, even saying the retired Olympian was moving out of their Calabasas, Calif. home, and network honchos at E! subsequently made this a plot line in the Kardashian reality show.
Article continues below advertisement
And it's not the first time magazines scooped the show.
In early 2012 a report surfaced in a weekly magazine claiming the Kardashian's father, Robert Kardashian, had confessed to his wife just before his passing in 2003 that daughter Khloe was not his biological child.
According to the report, Robert told his then-wife, Ellen, that he deeply questioned the paternity of Khloe — noting that he and Kris weren't even sleeping together at the time of her conception with Khloe!
"But he never would have considered a DNA test," Ellen said. "He loved her very much."
Well, fast forward five months and previews of that season of Keeping Up With The Kardashians touted a DNA test on an upcoming episode — a DNA test that never happened.
Kris had previously admitted in her book, Kris Jenner and All Things Kardashian, to an affair around the time Khloe was conceived — initiated a set of paternity tests to put the hotly-debated issue to bed, for better or for worse.
MORE ON:
Keeping Up With the Kardashians
Article continues below advertisement
"Khloe has had it with me torturing her over this swab test," the 56-year-old Momager said. "I know all the rumors are absolutely ridiculous, but I know this is something she needs in order to feel complete."
Eventually a family meeting was called and a doctor even makes a house call to do the DNA test but Khloe refuses.
"Mom, I don't care what they're saying … because everyone is calling me fat, do you want me to go get lipo?" she asked.
"Seriously, my dad is Robert Kardashian. My other dad is Bruce Jenner," Khloe said. "If you f**ked other people during the same time and you do not know, go on Maury!"
But the storyline has yet to die down, because on the June 9 episode of Keeping Up With The Kardashians Kim and Khloe were shown hiring a private eye to investigate their former stepmother and serve her with a lawsuit.
"Guess what? The slippery snake has been served!" Kim smiled triumphantly to her family.
Article continues below advertisement
"It really warms my heart to think that my girls care so much that they want to stick up for me," Kris said on the show. "Finally we've been able to speak up and say this isn't right."
It was RadarOnline.com that exclusively reported in April that the Kardashian siblings were suing Ellen, and the family was asking for $500,000 in damages, in addition to profits, statutory damages, punitive and exemplary damages from Ellen, claiming she licensed belongings bequeathed to them by their late father to publishing companies, which printed the material in magazines.
So if you're wondering what's coming up on this season of Keeping Up With The Kardashians, stay tuned to Radar!