What Did DNA Test On Khloe Kardashian Reveal?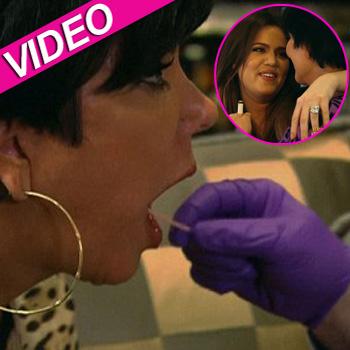 Nothing -- she didn't take it!
Here's how it all went down:
Kris -- who admitted in her book, Kris Jenner and All Things Kardashian, to an affair around the time Khloe was conceived -- initiated a set of paternity tests to put the hotly-debated issue to bed, for better or for worse.
Khloe Kardashian Offered $250K From Radio Personality To Take Paternity Test!
"Khloe has had it with me torturing he over this swab test," the 56-year-old "Momager" said. "I know all the rumors are absolutely ridiculous, but I know this is something she needs in order to feel complete."
Article continues below advertisement
Later on, Kris calls the rest of the family together to try and persuade Khloe to take the test, but faces a divided front: While Kim and Kris think she should take the test, Kourtney does not and Rob thinks the whole situation's a joke.
As for Khloe? She told Kris, "Mom, I don't care what they're saying … because everyone is calling me fat, do you want me to go get lipo?
"Seriously, my dad is Robert Kardashian. My other dad is Bruce Jenner," Khloe said. "If you f***ed other people during the same time and you do not know, go on Maury!"
In classic Kardashian fashion, a doctor makes a house-call to the reality TV family's home to perform the test on Khloe, but she refuses.
"It's not about me," she said. "It's actually about Mom."
After Kim tells Khloe that Kris has been tortured by Khloe's reluctance to get the test, Khloe writes her mother a letter stating her thoughts on the issue.
The letter reads, "I don't need someone to tell me who my family is. I have had the blessing of having two phenomenal fathers. I don't need a DNA test to prove who my father is."
Article continues below advertisement
After Kris told her she still wanted her to take the test, Khloe told her mother: "I appreciate your letter and it means a lot to me, but I am an Odom anyway. I'm not a Kardashian anymore, so let's move on."
Watch the video on RadarOnline.com
The story about Khloe's paternity was first reported by Star magazine, based on interviews with two of the late lawyer's ex-wives, Jan Ashley and Ellen Kardashian.