Exclusive
How Do You Explain This, Kim? Kardashian Caught In MAJOR Courtroom Contradiction About Who Really Runs Their TV Show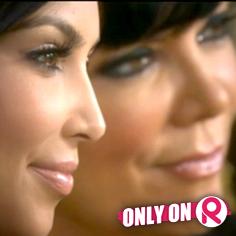 Article continues below advertisement
"I hold the title of President of Jenner Communications, Inc.," Jenner asserts in the text.
"Jenner Communications, Inc., (JCI) is and acts as the management company for the Kardashian/Jenner/Odom/Disick families. JCI contracts to provide there personal services of myself to E! for the show. JCI is not a producer of, nor does it receive any producer credits for or related to, the Show."
"JCI, myself, and my family members, that are the subject of the show, are not responsible for the editing or the production of the show," she claims. "After episodes are filmed and edited, we are provided the opportunity to provide comments and suggestions to BMP as to footage in a particular episode that has been filmed from or about our lives and BMP does take those into account."
Article continues below advertisement
Jenner likely made that claim to try to distance herself from what airs on television because Ellen is suing over how she was portrayed during an episode of Keeping Up With The Kardashians.
Jenner has subsequently claimed she does not have final control over what airs.
But in 2011, during an interview with CNN's Piers Morgan, Kim boasted about having editorial control!
"I mean, I'm really particular on what I show about, you know, any relationship that I may have," she said. "Or there are so many personal things. And what's so cool is our relationship with the show is from the start, they've always said we have, you know, the right to edit and to approve all the footage."
But in another interview, conducted in 2010, Jenner provided more context about their role in the editing process.
The manager/mother said as Executive Producer, she "edited" scenes that she wanted too but stopped short of describing their influence as Kim chose to.
Discussing the notorious scene of Kendall and Kylie Jenner dancing on a stripper pole during the first season of Keeping Up With The Kardashians, Jenner was asked by ABC anchor Christine McFadden if "as an executive producer, she let it go out there."
Article continues below advertisement
"Yes, I did," Jenner, 58, admitted. "And in my first season, I probably, it would have been one of the things I edited. But I didn't."
Two years later, she insisted yet again that she holds some reigns -- but not all -- of the show, admitting to the Wall Street Journal Digital Network: "I have been offered the opportunity to actually go back and edit things out."
A legal representative for the Kardashians told RadarOnline.com: "Ms. Jenner's statements are accurate and consistent with prior statements."
"The Kardashian's are 'not responsible for the editing or production of the Show,'" the spokesperson added, quoting the court filing.
"After the production company films and edits the footage from or about their lives to create a particular episode, the Kardashian's are allowed the opportunity to provide input and make comments as to captured footage, and BMP 'does take those into account' in editing."