Amanda Bynes Told By Psychiatrists NOT To Go To Fashion School & Seek Further Treatment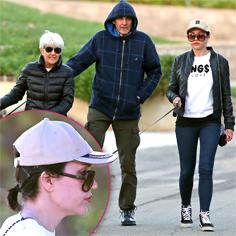 Amanda Bynes, recently released from Malibu rehab facility The Canyons for treatment of schizophrenia, will NOT take the advice of her doctors to seek further intensive treatment, as she's intent on going to fashion school.
Bynes has been living with her parents Lynn (who was granted conservatorship of the troubled actress) and Rick upon her release from The Canyons, where she had been treated for several months, as RadarOnline.com exclusively reported.
Article continues below advertisement
"Amanda has completed her inpatient rehabilitation and she's feeling better every day," Lynn's lawyer, Tamar Arminak said in a statement. "She's now looking at various colleges with the intention of majoring in fashion design.
"She's mentioned before she's interested in creating a clothing line. Despite the fact Amanda is no longer in a facility, her outpatient treatment is continuing. She's very happy to re-establish the loving relationship with her family that she once shared."
A source close to the situation broke down the nuts and bolts of the challenging situation.
"Amanda was told by her doctors that going to fashion school, so soon after being released from The Canyons, … is an absolutely terrible idea for her to do at this time -- it's almost setting her up for failure," the source said. "There will be pressure on Amanda as far as school work, deadlines, and it's unlikely she will be able to succeed.
Article continues below advertisement
"The fashion school she is enrolled in is almost two hours from her parents' house in Orange County, and she still doesn't have a valid driver's license.
The source said that "Amanda's treatment team felt that she could have benefited from further inpatient care -- if not at The Canyons, at another facility.
"Yes, she is still seeing her doctors on an outpatient basis, but this is all happening way too fast and too soon. Amanda should be eased back into her life in a controlled manner, because she is dealing with a very serious health diagnosis. Why does she need to enroll now in school? It would be ideal if she waited six months to a year."