Exclusive
Victim Of Amanda Bynes Driveway Fire: We Never Said Her Parents Should Pay, We Just Hope She Gets Help!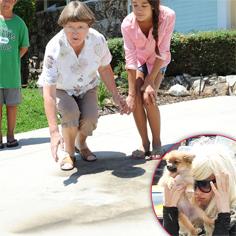 The family whose driveway Amanda Bynes set fire to before being picked up on a 5150 psych hold on Monday night exclusively tells RadarOnline.com that they never expected the troubled actress' family to pay for the damage, and they just hope she gets the help she needs.
Homeowner Bonnie Braaten fell victim to Amanda's bizarre behavior when she started a small fire in the driveway of her Thousand Oaks, Calif. home and the family was left with a tarnish from the fire on their driveway.
Article continues below advertisement
"My mom never said Amanda's parents should pay for the damage," Bonnie's daughter told RadarOnline.com
"She doesn't feel that way. We never wanted to add to the parents problems and we never expected them to pay. We were going to take care of it ourselves."
Bonnie and her family are aware of Amanda's suspected mental illness and just want to see the former Nickelodeon star get better."My mom wasn't really aware of who Amanda was. We were just concerned someone started a fire at my moms house," the daughter said, who wishes not to be named.
"We hope she gets help. It's a sad situation for her entire family and we feel bad."
As for the damage to the driveway, it turns out Bonnie and her family won't have to pay for it to be fixed after all, because RadarOnline.com has exclusively learned it's being paid for by the very man who was trying to recruit Amanda into a record deal.
Daniel Herman of Chinga Chang Records tells RadarOnline.com that he got in touch with Bonnie after hearing about the fire and hired a company to come fix her driveway on Thursday morning.
"Precision Painting will be at Bonnie's home to clean up Amanda's mess," Daniel told RadarOnline.com.
"I'm paying for it and Bonnie gave me permission to send the crew over. When I saw a report that Amanda's parents weren't going to help, it got me mad so I decided to help.
Bonnie and her family confirmed Daniel's offer and are happy the driveway will be fixed and tell RadarOnline.com they "can't wait for their lives to go back to normal."