Exclusive
Amanda Bynes Offered $200K Advance For Record Deal: She Can Make Better Music Than Drake, Says Producer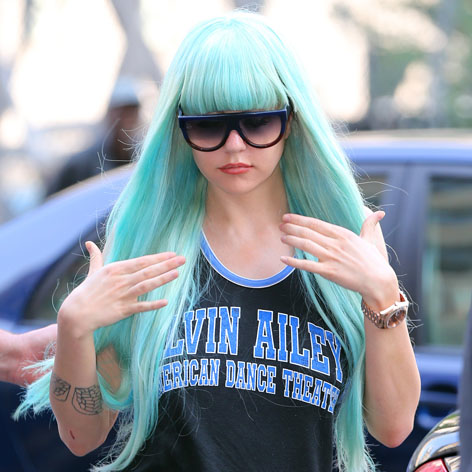 Not only does Chinga Chang Records still want to make a record deal with Amanda Bynes, but the company's producer exclusively tells RadarOnline.com that the troubled actress is capable of making better music than the already-established artist, Drake.
While the company's first offer to Amanda was eventually rescinded after a disagreement in vision for the album, Daniel Herman of Chinga Chang Records tells RadarOnline.com he's determined to produce the album with her and has even increased the initial signing bonus of $150,000 to $200,000 — which Amanda can keep no matter what.
Article continues below advertisement
"I would have to be an idiot to not do everything in my power to create a classic album with her. It's not about being more gangster than Drake, it's about representing the culture and having the ability to make better music than him," Daniel told RadarOnline.com.
"She's got that. I just want her to let me have the opportunity to prove it to the world."
In the offer letter obtained by RadarOnline.com, Daniel apologizes for their difference in vision and for "making the artist feel uncomfortable," and promises Amanda "complete creative control of all aspects" of the album, along with a 50/50 split on gross record sales of the LP.
Check out the offer letter below: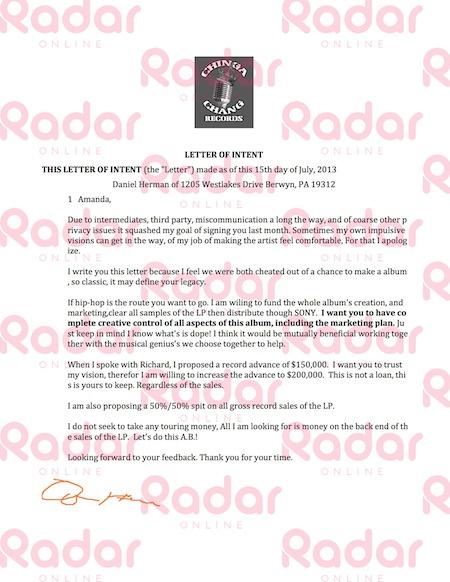 Daniel sent the letter to one of Amanda's attorneys, Gerald Shargel, who immediately responded: "Thank you very much. I will get this to her asap."
"I'm not from Hollywood, just a normal dude from Philly. My impulsiveness to pressure her to sit down with Wyclef Jean was a mistake, and I truly hope Amanda will forgive me for that," Daniel said.
"Meeting with Wyclef and discussing Amanda's album was like a dream come true but upsetting Amanda crushed me. I let me immaturity get the best of me and I apologize to Amanda."
As RadarOnline.com exclusively reported last month, Amanda was scheduled to meet with the three-time Grammy Award-winning artist to discuss production on her first single, but the meeting never happened because Amanda bailed.
And after reports that Amanda now wants to work with rapper Waka Flocka Flame, Daniel says, "He's fair game."