Amanda Bynes Malibu Rehab -- $60 K A Month, Less Than Half Of Previous UCLA Facility Cost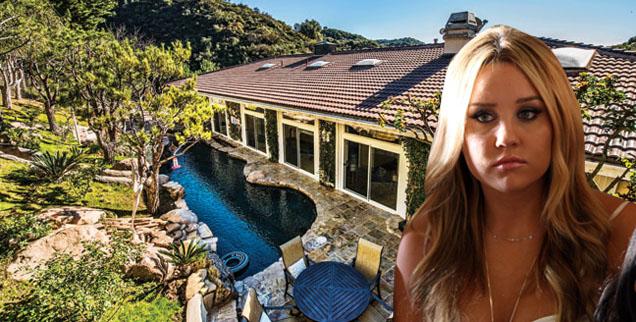 Troubled actress, Amanda Bynes, formally diagnosed with schizophrenia and bipolar disorder, is currently at a treatment facility in Malibu, which is charging her $60,000 per month, a price less than half of what UCLA Medical Center had cost, RadarOnline.com is exclusively reporting.
The 27-year-old had been treated at UCLA, prior to being transferred, for a whopping $125,000 per month, sources tell RadarOnline.com. The Hairspray star was transferred to the facility in Malibu (which RadarOnline.com isn't naming) with the approval of doctors at UCLA because it would be a better fit for her.
Article continues below advertisement
Money was "absolutely NOT the reason for the move," a family source told RadarOnline.com exclusively. "Amanda is worth $3 million … even if she was broke, her parents, Lynn & Rick would mortgage their house, sell their cars, if that is what needed to be done to pay the medical bills.
"She doesn't have any health insurance through the Screen Actors Guild because she isn't eligible as she hasn't worked in several years. The good news is that Amanda is adapting very well to her new surroundings and treatment plan."
According to the website for the rehab/treatment facility, it specializes in complex psychiatric issues and double diagnosis, which Amanda has.
Tabloid media reports stating the facility doesn't specialize in mental health issues are "just dead wrong," according to the insider.
"Amanda's parents did extensive research and toured several facilities before she was moved," the insider said. "Her doctors at UCLA actually recommended the place Amanda was placed in. She meets with psychiatrists throughout the day, and it's extremely intensive, personalized care that she is now getting."
Article continues below advertisement
On Monday, Bynes' parents, via their attorney Tamar Arminak, released a statement about progress she is making in treatment.
"The Bynes family would also like to thank all of Amanda's supporters and well-wishers for their thoughts and prayers during this difficult time. Currently, upon recommendation by the skilled healthcare professionals at UCLA Medical Center, Amanda is receiving specialized treatment in a private facility outside of Los Angeles. Amanda is making great strides towards recovery. The entire Bynes family would like to ask that they be given some measure of privacy so they can focus on Amanda's health and well-being," the statement read.
As we previously reported, Amanda's mother Lynn was granted a conservatorship LPS of her daughter after she set a fire in the driveway of a nearby neighbor several months ago. What is still unknown is how long Bynes will remain in residential treatment. Our sources say it could range from six months to a year, as "it all depends on Amanda and finding the appropriate prescription drug cocktail that she responds to.
"Amanda's parents are very patient and loving with her, and will do whatever is needed to get their daughter through this."