Exclusive
Miley Cyrus: Popular Blogger Says Her Recent Behavior Is 'Not Normal,' Potentially Indicative Of Mood Disorder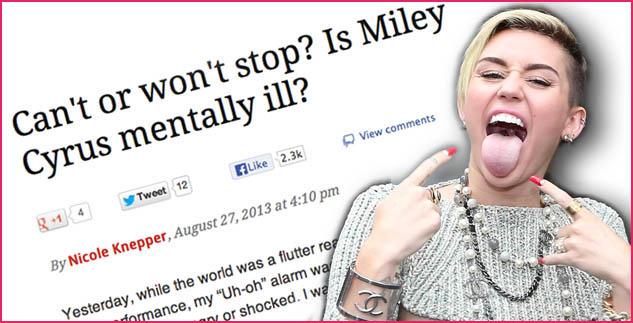 Article continues below advertisement
"For some time now, her behavior has given me the Uh-ohs," Knepper wrote in a blog post that's since gone viral. "But more recently, her hyper-sexuality, lack of impulse control and boundaries, rapid mood swings, admitted drug use, compulsive tweeting and spending, extreme displays of irritability and argumentative behavior, difficulty sleeping and hoarding of animals, all documented on Twitter by Miley herself for her over 13 million followers, are not just typical adolescent behaviors. Not even for rich and famous entertainers!"
Instead, she wrote, "These behaviors are, in fact, symptoms that someone with a mood and/or personality disorder would display. They are also behaviors seen in people who are chronic drug abusers or people under the influence of mood altering substances.
"I have my master's degree in professional counseling psychology and I'm a licensed clinical professional counselor, with a focus on adolescents," Knepper explains to Radar. "And I have a second master's degree in gerontology.
Article continues below advertisement
"While I am not saying that Miley Cyrus definitely has a mood disorder, I am saying that in the regular, real world, someone displaying these symptoms is definitely a cause for concern," she tells Radar.
"Somebody who has rapidly shifting moods, well-documented sleep problems. Insomnia. Full of ideas. Voracious sexual appetites. Unfiltered communications about drugs, alcohol, sex. That's a red flag."
And it's not just Miley's celebrity status making her act that way.
"Think of all the celebrity kids on Twitter," Knepper says. "If you put them in a curve, Selena Gomez might be in the middle. She'll tweet and talk about her family, her friends…She seems to be a pretty mature, well-rounded kid. I think she's such a lovely example of a healthy celebrity. Miley's right at the end, the edge of the curve. Amanda Bynes, she's outside of it."
Article continues below advertisement
Knepper admits, "I think Miley is super talented and beautiful and especially as someone who's enjoyed watching her on Hannah Montana with my daughter, I'm rooting for her. But it's a slippery slope.
"In Hollywood you see those spirals over and over," she says. "You have somebody like Amanda Bynes, who has a real mental illness and maybe she was triggered by drug use but certainly the Hollywood lifestyle is not conducive to mental health. Is that Miley too? Is that not Miley? We don't know yet. I'm just saying, let's keep an eye on this."
"There is a range of normal and Miley's behavior is not normal," she insists. "Even for a celebrity."
For more of Knepper's insights, follow her blogs at Chicago Now and momswhodrinkandswear.com, or pick up her book, Moms Who Drink and Swear: True Tales of Loving My Kids While Losing My Mind.