'Miley Cyrus Should Be Fined And Jailed' For 'Licking The Butt Of A Stuffed Bear': Read Angry VMA Viewers' Complaints To The FCC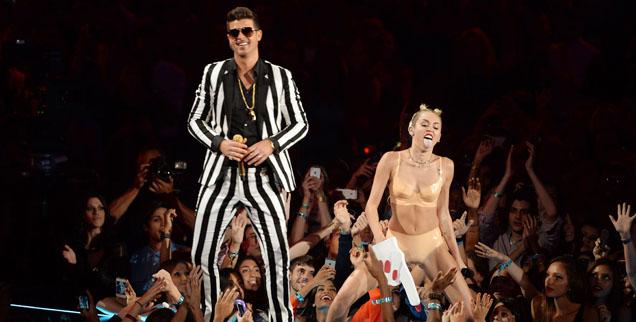 Is twerking a crime? Apparently, at least 150 Americans think so.
That's how many people sent outraged complaints to the Federal Communications Commission (FCC) after Miley Cyrus got nasty with a foam finger and Robin Thicke during the MTV Video Music Awards earlier this month. Unfortunately for the outraged viewers, the FCC only has the authority to sanction broadcast television outlets, not cable networks like NBC.
Article continues below advertisement
But fortunately for the rest of us, their hilariously over-the-top complaints have been collected by The Smoking Gun following a Freedom of Information Act request.
Miley, "has shown what she is, acting like a devil flicking that tongue as demons do," one viewer from Kentucky wrote. "Being a Christian, I'm taking a stand as these people push vulgarity. … A lady would never conduct herself like that. Shame on her and MTV. They should all be fined for this broadcast.
Read Angry VMA Viewers' Complaints To The FCC
One viewer from West St. Paul, Minn., was disturbed that Miley was shown "licking the butt of a stuffed bear in a sexual manner."
A critic from Lexington Park, Md., wrote, "She was crude, pornographic, and absolutely shameful. Had I wanted my family to see a hooker perform a live sex show, I would have taken them to Tijuana. It was, at best, a demonstration of what a pedophile would like to see during a child pornography show."
Article continues below advertisement
And several complained that their children were especially disturbed by the former tween star's actions.
According to one parent from St. Paul, Minn., "My ten-year-old daughter was watching with us as a singer, she had previously admired and watched consistently on the Disney Channel twerked and gyrated and dry-humped a foam finger in front of a live audience … my daughter was compelled to put her head under the covers."
Another viewer complained that their 10-year-old niece's "excitement quickly turned to shock when Miley Cyrus and Robin Thicke came out and performed the most obscene, raunchy performance that she had ever seen in her life."
"The scars on our children's minds cannot be erased," a parent from Lancaster, Pa., the heart of Amish country, intoned.
And while nearly all complaints begged the FCC to slap MTV with a fine, some took aim directly at Miley.
"Miley Cyrus needs to be spanked and fined a great deal of money to punish her for her awful behavior," someone from Covington, Ga., wrote.
Another viewer from Arizona said that instead of corporal punishment, "Miley needs … 12 months in a convent!"
And one viewer from Athens, Ala., went so far as to say, "Miley should be excommunicated from the music community!"
Do you agree with the angry viewers or do you think it's much ado about nothing? Let us know in the comments!