Dr. Laura Slams Miley Cyrus' MTV VMA Twerking, Says She Is 'A Disgusting Little Pig'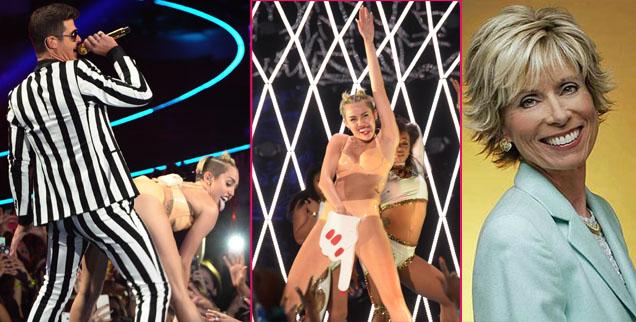 Miley Cyrus is still getting flack for her outrageous twerking dance with Robin Thicke at the 2013 MTV VMAs and her latest critic is none other than conservative talk show host Dr. Laura Schlessinger, who resorted to nasty name calling, saying Miley is "a disgusting little pig" and " a little miss piece of crap."
Schlessinger left her radio show in 2010 after using the n-word during the broadcast, but now that she's on Sirius XM radio she clearly hasn't changed her hateful ways if this latest rant is any evidence.
Article continues below advertisement
She ripped Miley's provocative performance on MTV, saying "There is a place for the Miley Cyrus' of this world... and it's in whorehouses and bars! And if you are a parent who takes your kids to see her, you are a moron and you should lose your parental rights!"
The 66-year-old Sirius XM radio host, who touts herself as "her kids mom" then started calling the former Disney star names.
"Miley Cyrus is a piece of scum. Unlike Madonna who plays to adults, Miley positions herself with kids and any parent who takes their kid to a Cyrus concert should lose custody of their children.
"Today her dad Billy Ray tweeted that he was proud of her, and he admitted that if Twerking would have been invented when he was younger, and he'd of had a foam finger... he'd have done the same thing.
"No decent family would want their son to marry a girl like Miley. Are you listening Mr. and Mrs. Hemsworth?"
https://media.radaronline.com/brand-img/wp-content/0x0/2013/08/dr-laura-mileycyrus.mp3