Exclusive
My, Oh Miley: Parents Television Council Says Dad Billy Ray Cyrus Can Quit Board, If He Wants, In Wake Of Criticism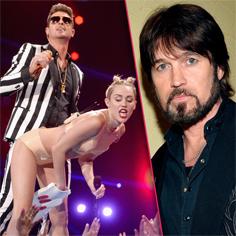 Miley Cyrus' outrageous twerking bump and grind performance at the 2013 MTV VMAs earned a sharp rebuke from the Parents Television Council where her father, Billy Ray Cyrus , is on the advisory board, and they exclusively told RadarOnline.com that if he doesn't like their criticism of the show he is welcome to quit the board.
"MTV has once again succeeded in marketing sexually charged messages to young children using former child stars and condom commercials -- while falsely rating this program as appropriate for kids as young as 14. This is unacceptable," said PTC Director of Public Policy Dan Isett in a press release, which also attacked Billy Ray's daughter.
Article continues below advertisement
"MTV continues to sexually exploit young women by promoting acts that incorporate 'twerking' in a nude-colored bikini. How is this image of former child star Miley Cyrus appropriate for 14-year-olds?" the statement said.
Melissa Henson, the Grassroots Director of PTC, told RadarOnline.com exclusively that they have not heard from Billy Ray since they released their statement about Miley's provocative dance with Robin Thicke for his hit song Blurred Lines.
"We would like him to remain a member of the board," she said. "But if he decides that being on the board this is no longer a fit for him that that is his choice."
She said that they have criticized Miley in the past for her sexually charged performances and Billy didn't say anything about that previously.
Billy Ray is standing behind his 20-year-old daughter, telling Entertainment Tonight that he loves his daughter unconditionally.
Article continues below advertisement
"That's exactly what he should say. He may be personally disappointed in her but in public he will support her and he may chide her privately."
As for the PTC criticism of Miley and not Robin, Henson apologized for only targeting her and not him, a married father.
"We should have mentioned Robin Thicke in our statement. It was an oversight that we will correct in our future statements."
Henson also distanced the organization from PTC Advisory Board Member and former BET Executive Paul Porter's comment in their press release that said, "The Miley Cyrus/Robin Thicke performance simply substituted talent with sex," telling RadarOnline.com that "he was speaking for himself."