Exclusive
Liam Hemsworth Mortified By Fiancee Miley Cyrus' Raunchy VMA Performance: 'He Doesn't Want To Babysit Her Anymore,' Says Pal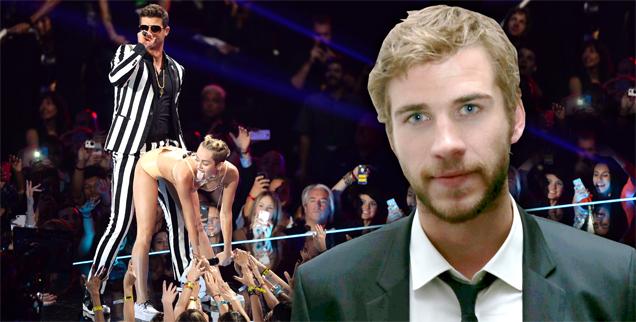 Article continues below advertisement
"Liam really does care about Miley, but her racy new look and sort of ghetto attitude isn't exactly what he signed up for," a pal tells RadarOnline.com.
"Her VMA performance absolutely mortified him and he couldn't be more embarrassed. He doesn't really see anything sexy about what she did on stage."
It should be noted that Liam wasn't even present for her VMA performance, but got an earful about it after it aired.
And as if the couple weren't already having issues in their relationship, the insider tells RadarOnline.com that Miley's pushing Liam further and further away — even though she's desperate to make it work with him.
"It's not just Liam that Miley is pushing away…his entire team is urging him to part ways with her because she's nothing but negative for his reputation and career," the source says.
"Liam is a serious actor with a growing career, while Miley has just turned into a joke."
The insider is adamant that Miley's wild behavior is just too much and Liam won't take it for much longer.
"It's pretty much over. He knows he can't stay with her when this is who she's become," the source concluded.
"He doesn't want to babysit her anymore. He has to move on."