Exclusive
Miley & Liam's Split: Cyrus Punishing Him Publicly & Hemsworth Embarrassed By Her Behavior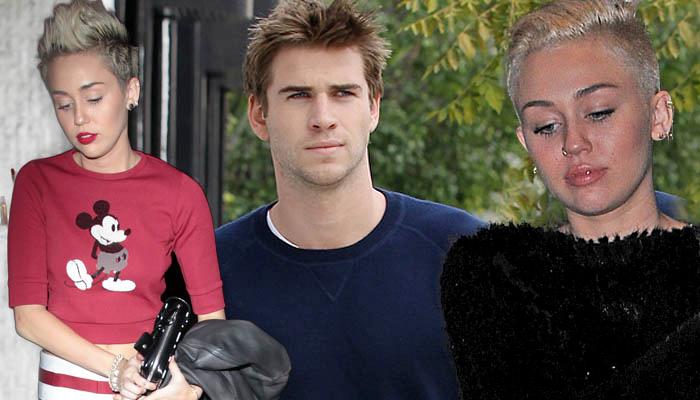 The split between Miley Cyrus and Liam Hemsworth has been a long time coming and a source close the situation exclusively tells RadarOnline.com that the former Disney star is taking advantage of the actor's reported infidelity as a chance to publicly humiliate him.
But the breakup is a two-way street, because the source also says Liam grew tired of Miley's immature and wild behavior, which led to fights between the couple — and he wasn't attracted to her new edgy look.
Article continues below advertisement
"They'll probably end up together, but Miley is just giving him hell right now and trying to publicly humiliate him," the source exclusively told Radar.
"They were always arguing about the company she kept and her actions with alcohol and stuff, and it made him especially uncomfortable when he was not home to supervise. Plus, Miley isn't looking so fierce these days and Liam hasn't really been feeling her 'look.'"
According to the source, Miley, 20, was annoyed that Liam, 23, was always ragging on her about her behavior while he was away — so she was happy to use the reports of him hooking up with Mad Men actress January Jones against him.
"The second Miley caught wind of Liam being unfaithful she took that as an opportunity to rip into him because he made her feel guilty all the time about her behavior," the source said.
Article continues below advertisement
"But she never cheated on him."
And if there's anybody happy about their split, it's Liam's PR firm because the insider revealed they haven't approved of his relationship with Miley for quite some time.
"Liam's PR firm has been trying to break them up for years. They think she is bad news for his image. He could be such a bigger star if he weren't tied down to her," the source told Radar.
"He's getting a lot of work but all the outlets ever want to talk about is Miley and it's really frustrating for him."
Miley tried to dismiss the breakup rumors on March 6 when she tweeted, "I am so sick of La. And sick of the lies that come with it. I didn't call off my wedding. Taking a break from social media. #draining," but was then photographed for the next two days without her engagement ring on.
"If Miley has her way, the breakup won't last because she's head over heels for Liam and ultimately doesn't want to lose him," the insider said.
"But now that Liam is taking some time away from her, he might come to the realization that she's not the best fit for him. And that terrifies Miley."