Miley Cyrus Can't Be Tamed! Shocks Crowd With Crotch-Grab At VH1 Divas Concert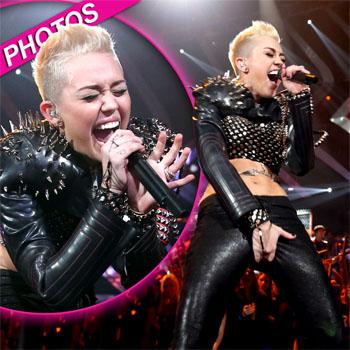 By Amber Goodhand - RadarOnline.com News Editor
In a nod to Miley Cyrus' 2010 Can't Be Tamed album, the 20-year-old singer literally acted out the title at Sunday night's VH1 Divas show by grabbing her crotch on stage, and RadarOnline.com has all the photos.
Miley walked the red carpet in a long, slinky, slim-fitting black dress but when the former Disney star hit the stage she channeled Billy Idol in a leather studded two-piece, belly-baring ensemble complete with chains and belted out his 1983 rock hit Rebel Yell.
Article continues below advertisement
Not only did the former Hannah Montana star get into the song by grabbing her crotch, but Miley also body surfed in the crowd and had an explosion of pyrotechnics on stage to complete her act.
Just last week Miley again shocked viewers when she practically busted out of her skintight black, cleavage-baring halter top at the Christmas Creampies concert in Hollywood.
"feeling connected to my baby girl Lila after tonight. i know she's up in doggy heaven proud of her mommy for staying strong," Miley tweeted late Sunday night after her Divas performance.
Miley's Yorkshire Terrier mix, Lila, passed away last week leaving the singer crushed by the loss.
"For everyone asking…I have never been so hurt in my life," Miley said at the time. "My heart has never been so broken…Lila my sweet baby girl has passed away.
"Broken. Gonna go MIA for a bit. Need some healing time. Thank you to everyone who has sent love my way. I need it."
RELATED STORIES:
From Disney to Dominatrix? Miley Cyrus Busts Out In Concert Fashion Flop