Happy 20th Birthday Miley Cyrus! See Her Transformation From Disney Star To Controversial Young Adult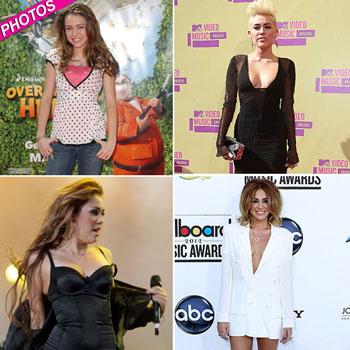 Miley Cyrus is no longer a teenager!
The controversial Disney star turned punk rock chic is celebrating her 20th birthday on Friday. In honor of her special day, RadarOnline.com has photos of the star from her introduction to the world as sweet-faced Hannah Montana, to a racy and Can't Be Tamed teenager, and finally to an edgy bride-to-be.
Miley's parents Billy Ray and Tish Cyrus knew that she was born to be a star! Named Destiny Hope at birth, she got the nickname Smiley because she was such a happy child.
Article continues below advertisement
From her early years, Miley loved to ham it up in front of the cameras. After taking acting classes as a child, she scored her first role in Tim Burton's 2003 movie Big Fish.
At the age of 11, Miley headed to Hollywood where she was cast in the role of a lifetime, landing the title lead role of Hannah Montana.
Miley became a teen idol overnight, as her show premiered to the largest audience in Disney history. With a hit show, sellout concerts and every sort of consumer product imaginable, the young star appeared to be the perfect role mode for the Disney demographic.
Miley mania took an unexpected turn for the scandalous in 2007, when the squeaky clean teen star posted sexy photos of herself and a friend, which ended up all over the web. Followed by photos of Cyrus in her underwear and swimsuit in 2008 (hackers were blamed for releasing the pics), and soon after, her racyVanity Fair cover, it became clear that Miley was over her good girl reputation.
After leaving the popular Disney show, Miley began pursuing her career in film and music, landing the starring in the movie The Last Song, where she met her future fiancé Liam Hemsworth, and releasing her album Can't Be Tamed that showcased her new racier image.
Article continues below advertisement
In 2010, Miley was ranked 13th in The Celebrity 100, Forbes Magazine's annual list of the most powerful people in Hollywood. Earning $48 million dollars, the teen star ranked higher than Jay-Z, Angelina Jolie and Jennifer Aniston.
In June 2012, Miley announced her engagement to Liam.
Shortly after showing off her huge Neil Lane bauble, the star chopped off her famous blonde locks, starting dressing racier and went on a tweeting spree, flaunting her super skinny body all over social media.