Exclusive
Selena Gomez 'Repulsed' By Miley Cyrus, Was Jealous When Justin Bieber Shot Punk'd With Her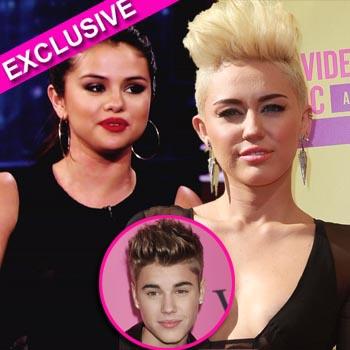 Article continues below advertisement
"Selena is repulsed by Miley!"
When Selena brought up her concerns to Justin about shooting with Miley, the pal says Justin shot her down.
"Justin did the show anyways, which didn't sit very well with Selena," the source said.
"He's been continually choosing work over Selena and she's finally had enough."
As RadarOnline.com exclusively reported, Selena finally broke it off with Justin after she found photos on Twitter of him posing with sexy Victoria's Secret models.
"Selena was pissed and immediately texted Justin, which caused the friend to delete the tweet," source told RadarOnline.com.
"But not before Selena retweeted the photo of Justin and the Victoria's Secret model with the caption '…' which she later deleted."
The source concluded, "When they originally started dating, Justin was a boy entertaining young girls, and now he's a man surrounded by Victoria's Secret models, and Selena doesn't like that."