Exclusive
Miley Cyrus 'Desperate' To Make It Work With Liam Hemsworth , 'She's Terrified Of Losing Him,' Says Pal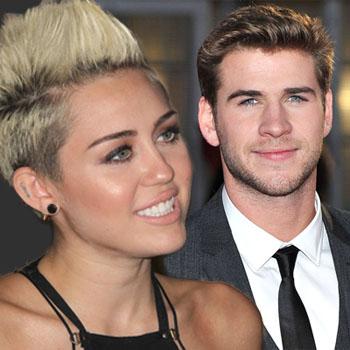 Miley Cyrus and her fiancé, Liam Hemsworth, have called off their engagement, but a source close to the situation exclusively tells RadarOnline.com that Miley is desperate to make it work with the hunky Australian and will do whatever it takes.
After reports surfaced that there was trouble in their relationship, Liam took off to spend time with his family in Australia, which has left Miley lonely, the insider says.
Article continues below advertisement
"Miley is super independent, which Liam loves about her, but at the same time she's an insecure girl who's terrified of losing him and will do whatever it takes to make their relationship work," the source exclusively tells Radar.
"This just goes to show Miley's immaturity and lack of relationship experience — that she's the one who's dying to make it work with Liam, when he's the one who strayed from their relationship!"
Liam reportedly got a little too close with Mad Men star January Jones when the two were at a swanky pre-Oscar soiree together at West Hollywood's famed Chateau Marmont.
"Miley can be a super jealous girl and feels like she probably pushed Liam away," the insider reveals.
"And even though she doesn't really want to tame her wild ways, if she wants to keep Liam she's going to have to. Either that, or she'll completely rebel because she's hurt and act out even more.
Article continues below advertisement
"On the outside Miley likes to appear like she's bad-ass and nothing bothers her, but on the inside she wants to be loved and doesn't think she could ever snag another guy as amazing as Liam."
As RadarOnline.com exclusively reported, Miley is taking advantage of Liam's indiscretion by using it to publicly humiliate him, although the source indicates Liam's been equally as embarrassed by her hard-partying and edgy outfits.
"If Miley has her way, the breakup won't last because she's head over heels for Liam and ultimately doesn't want to lose him," the source told Radar.
"But now that Liam is taking some time away from her, he might come to the realization that she's not the best fit for him. And that terrifies Miley."