She Really Can't Be Tamed! Miley Cyrus Bares Almost All In Racy Photo Shoot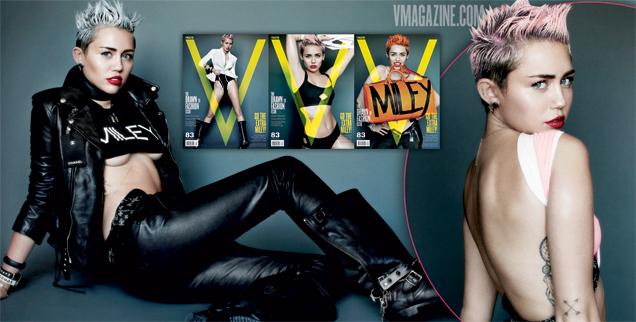 Miley Cyrus is no stranger to scandalous style, but she is really pushing the provocative envelope with her new magazine feature!
The 20-year-old singer, who starting steaming up her Hannah Montana look a few years ago, is making a statement in the May 2013 issue of V Magazine by stripping down and exposing the majority of her body – and RadarOnline.com has the photos.
"I'm going to change, I'm going to be different, I'm going to do what I want to do," Miley explained about her racy transformation. "I chopped my hair and bought a pair of Docs and never looked back."
Article continues below advertisement
In one of the images taken by famed photographer Mario Testino, the Can't be Tamed singer is totally topless with only her hands covering her breasts, while in another she wears a crop top that only conceals her nipples and shows off major underboob.
She also shows off her backside, wearing cheeky, studded leather shorts in a snap and low-slung track pants that expose the top of her bare bottom.
Despite reports that there is turmoil between her and fiancé Liam Hemsworth, Miley claims that all is well.
HOTOS: Miley Cyrus Flaunts Her Engagement Bauble
"I'm not home with my boyfriend all the time. We work. Every week it's 'Are they broken up? Because we don't see a photo of them.' I don't have time go to Starbucks with my boyfriend every morning," she said.
"I wish I did, but I don't. I'd rather chill at my house and be there for the time I actually get to spend with him. And then I'm at the studio all day. He gets up to work out at six and I come home at five from the studio."
Miley, who has been working hard with Pharrell on her upcoming album, admits that she her career has been her priority.
"I put this record before everything, and I've never done that with anything," she revealed. "I've put too much into this record to put anything else in front of it."
What do you think about Miley's provocative photo shoot? Sound off below…
Follow us on twitter @Radar_Online and let us know what you think on our Facebook page.