Exclusive
Miley Cyrus Devastated As Liam Hemsworth Postpones Wedding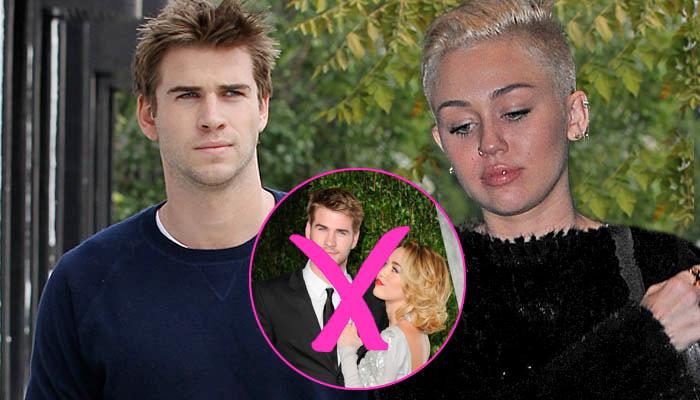 It was Liam Hemsworth, not Miley Cyrus, who baulked at the idea of walking down the wedding aisle, a source has revealed to RadarOnline.com.
The 23-year-old Hunger Games star "just isn't ready to settle down yet" and told the one-time Disney starlet he wanted a longer engagement.
Miley, 20, was planning to walk down the aisle as soon as this summer after their June, 2012, engagement, but had to back down from her demands in fear she would lose her him!
Article continues below advertisement
"For the moment, the wedding has been postponed," confirmed a source close to the couple.
"When Miley and Liam got engaged, he thought it was going to be a longer engagement and that he would still be able to have a bit of freedom with his life.
"But Miley has been very insistent that they get hitched as soon as possible. She's been chewing Liam's ear off about it."
Said the insider: "He just snapped and said that he wasn't ready, which upset Miley because she was always so insistent they'd marry within a year."
Liam, who grew up in Australia, felt "a little trapped" with Miley's speedy plans but didn't want to hurt her feelings, according to the source.
Initially, he didn't say anything, the insider explained, but ultimately the drama boiled up inside him and he had to tell her "enough was enough."
"She was devastated, but Miley understands she may have been pushing him too much," said the insider.
"Miley doesn't want to lose Liam, so she's accepted that she is just going to have to wait."
Article continues below advertisement
In February, Liam was linked to Mad Men star January Jones after a pre-Oscar party the famed Chateau Marmont hotel.
As RadarOnline.com previously reported, Miley's father Billy Ray admitted this week that he didn't know if his daughter would ever even marry Liam.
The Achy Breaky Heart singer was probed about writing his new memoir Hillbilly Heart at a time when Miley and Liam's future was uncertain.
"As I was writing the book, I wanted to keep that particular moment as open ended as possible," he told Bob Woodruff.
"I didn't know the answer. They're young, they're kids. The great news is they're great friends. They're really, really good friends."
When Woodruff asked more directly if he thought Miley would marry Liam, Billy Ray admitted: "I don't know... I play it by ear."