Engagement's Off! Miley Cyrus Caught Liam Hemsworth Texting January Jones Claims New Report!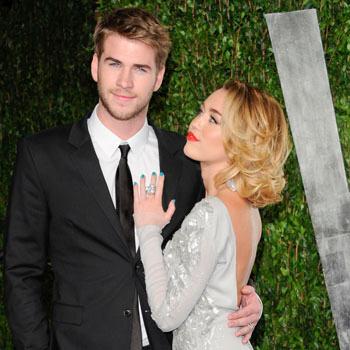 Busted! Miley Cyrus has called off her engagement with Liam Hemsworth according to a bombshell new report that claims she recently caught him texting with January Jones!
The former Disney star, 20, was shocked when she realized that her fiancé was still in communication with January, 35, after they seemed to have repaired their strained relationship.
"Miley couldn't believe it!" an in­sider told the National Enquirer.
Article continues below advertisement
The Mad Men star and Liam, 23, were spotted "making out" at a private house party Oscar weekend, and Miley was so enraged that Liam fled to his native Australia for three weeks in hopes that she would cool off, but their time apart didn't stop Liam from continuing to text January.
"As if the embarrassment over Liam's fling with January wasn't bad enough, to find out that he's still in touch with her is pretty much the nail in the coffin as far as their rela­tionship is concerned."
For more exclusive details about the demise of their relationship pick up the latest issue of the National Enquirer on newsstands Thursday.