It's Off – At Least For Now! Miley Cyrus & Liam Hemsworth's Wedding's On Hold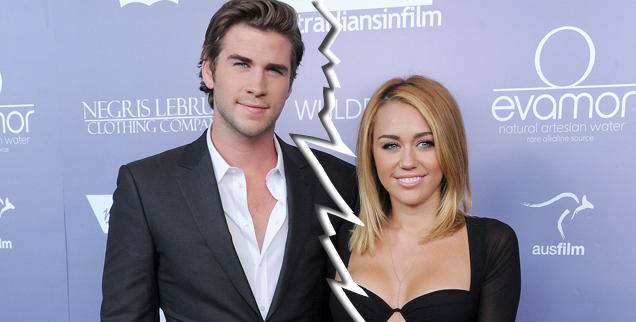 Don't buy them a wedding gift just yet – Miley Cyrus' planned springtime wedding to her hunky fiancé, Liam Hemsworth, in sunny Palm Springs, California has been put on ice, according to a new report out Wednesday.
"They were supposed to get married in June," an insider tells the new issue of Life & Style.
"But there have been so many problems with them, they thought it was best to work out their issues before making such a big commitment," the insider adds.
Article continues below advertisement
The young lovebirds' ( Miley's 20, Liam's 23) relationship has been rocky of late, and even the Aussie actor's own family has wondered if the two will make it down the aisle.
"I don't know," actress Elsa Pataky, Chris Hemsworth's wife, said on April 8, when Life & Style asked whether the wedding was still on. "If they get married, it would be nice to go to their wedding."
"They aren't ready," the insider told the mag. "Their families are both concerned. They don't want to see Miley and Liam get married and then get divorced," adding, "They're very young to be getting married."