Exclusive
Wedding Back On! Miley Cyrus & Liam Save Their Relationship With Last-Ditch Talks After He Tells Her To Grow Up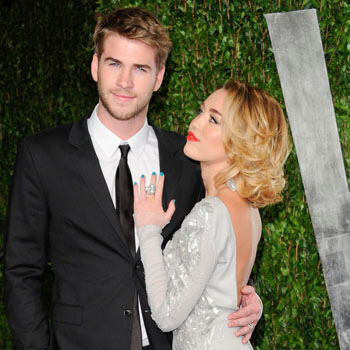 Miley Cyrus and Liam Hemsworth's wedding Is back on!
The couple saved their relationship with last-minute talks during the weekend at the 20-year-old singer's Los Angeles home, RadarOnline.com has learned exclusively.
The two were desperate to iron out their differences as soon as Liam, 23, returned from his overseas trip, a source revealed.
And their differences were drastic! Liam wants Miley to grow up and be more responsible and Miley wants more romance – but in the end they figured it all out.
Article continues below advertisement
"After a four-week break, Liam went back to Miley to talk about their problems," the insider tells RadarOnline.
"He had a chance to clear his head in Australia and Manila, realized he couldn't be without Miley and wanted to make their relationship work.
"They sat down and talked it all through. Miley told Liam she wants more romance in the relationship, while Liam said he wanted to her be more responsible and act her age.
"Liam and Miley both have dominant personalities and can be quite stubborn. In the end, they knew that it would be better if they just listened to one another."
And whatever was said between Liam and Miley seems to have worked. On Sunday evening, the Can't Be Tamed star changed her Twitter profile picture to a close up image of her huge engagement ring.
The 3.5 carat diamond ring has been off – and then on – Miley's finger a few times lately.
MORE ON:
Celebrity Romance
Article continues below advertisement
As RadarOnline.com previously reported, Miley was determined to prove that her relationship with the Aussie hunk was not over by posting pictures of herself wearing the engagement ring on March 20.
"It's a onezie PARTY (of one)" she Tweeted, prominently flashing her ring finger with the enormous bauble on her hand.
Just two weeks earlier, though, she was spotted without the ring, as her relationship with Liam was on the rocks after he was seen with Mad Men actress January Jones.
Despite how vocal Miley was, Liam preferred to stay quiet on the situation. At a promotional event for his clothing line at the Peninsular Hotel in Manila in the Philippines on Friday, Liam dodged questions about his relationship status by asking questions to be screened the day before.