I'm Still Getting Married, See My Ring! Miley Cyrus Flaunts Her Engagement Rock Amid Breakup Rumors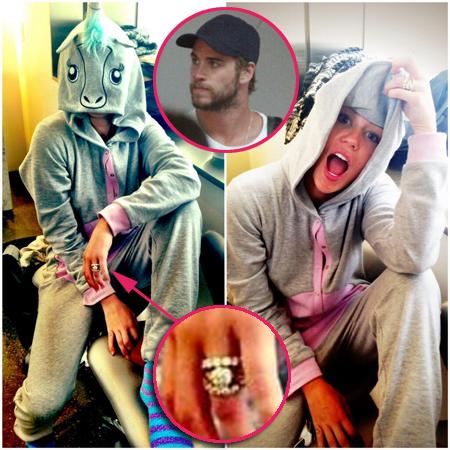 Miley Cryus wants you to know he put a ring on it, and it's still there!
The former Disney star has been adamant that her engagement to Aussie hottie Liam Hemsworth is not over, and RadarOnline.com has the photos Miley just posted where she's wearing her blingy ring again.
"It's a onezie PARTY (of one)" she Tweeted, prominently flashing her ring finger with the enormous bauble on her hand.
Miley, 20, has been spotted lately without the ring and her split with the Hunger Games star was widely reported, but she isn't throwing in the towel yet.
Article continues below advertisement
"Miley is super independent, which Liam loves about her, but at the same time she's an insecure girl who's terrified of losing him and will do whatever it takes to make their relationship work," a source exclusively told RadarOnline.com.
However, Liam has been stoically silent on their relationship status while visiting his Oz homeland.
Does Miley's ring picture make you believe they're still together? Tell us in comments!