Demi Lovato Warns Miley Cyrus About Her Drug Use: 'Be Careful'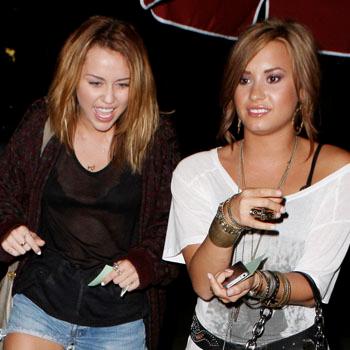 "You know what I'm up to,"Miley Cyrus has said of her alleged use of "Molly", or MDMA, marijuana, and maybe even more. Indeed, the Disney darling turned party girl has definitely raised some eyebrows with her new, anything-goes attitude.
And now, her close friend Demi Lovato, who has dealt with her own addiction issues in the past, is reaching out to say she's worried about her pal.
"She knows how I feel about the whole partying thing..." Demi told MTV News. "And I'm always like, 'Just be careful.' And she's like, 'Dude, I'm chilling. It's fine.'"
Article continues below advertisement
And for now, Lovato says she accepts that without question. "I care for Miley so much that I'm so protective, but she's good," Demi insisted. "She's got a good head on her shoulders."
If Miley didn't, she wouldn't be a part of Demi's life. "I surround myself with people that are beneficial in my recovery and my recovery is still a daily battle and I definitely hang out with people that support me in making the right decisions," Demi has said. "I'm a happier and healthier person today because of the choices I've made."
Whether the same applies to Miley remains to be seen.