Demi Lovato: Cory Monteith 'Didn't Choose To Die' … 'The Disease' Killed Him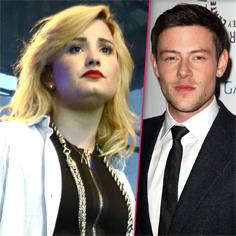 Demi Lovato says the late Cory Monteith had virtually no choice in his own death, as "the disease" of drug and alcohol abuse claimed his life at 31, after a heroin and alcohol overdose last Saturday.
"He didn't choose to die," the Camp Rock star told People. "It was the disease. It can creep up on you at any moment. It only takes one moment of relapse to potentially die.
"It's really scary, but I'm really hoping that from this, people are able to see this is a very, very, very dangerous disease."
Article continues below advertisement
The X Factor personality -- who herself was in rehab two years ago fighting personal issues such as anorexia, bulimia and cutting -- cautioned that "all it takes is one moment of vulnerability to get slipped into your addiction."
She said that celebs such as herself and the late Glee star are often baited with substances by those wanting to capitalize off their fame.
"Promoters gave me drugs and alcohol in restaurants or clubs -- they wanted me to come back so I would be seen there," she told the magazine. "Being a celebrity can be dangerous. Nobody says 'no.' That's why so many end up overdosing and dying.
"It could definitely have happened to me."
Lovato said she doesn't explore the club scene anymore as a result.
"I just know it's something I can't do without being triggered," said the former Disney diva, 20. "And that's okay."
Demi, who said her heart is "really, really broken" by Monteith's death, said she's focusing her sympathy toward Monteith's girlfriend, Lea Michele.
"I am praying for her so hard and I love her so much," Demi said. "I'm wishing her a lot of strength right now."