Shocking Confession: Demi Lovato Admits She Was Suicidal At Age 7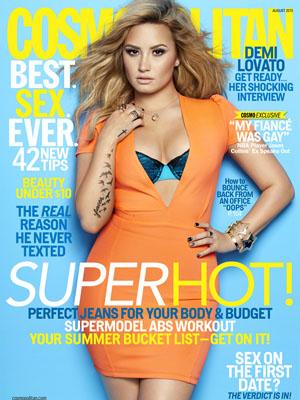 In a stunning confession that hints at even darker secrets, Demi Lovato says in a new interview that she was suicidal at age seven – and RadarOnline has the details.
The X Factor judge, who has dealt with cutting and bulimia in recent years, reveals that when she got her first showbiz job on Barney & Friends at age 7, she was already in a bad place.
"At the time, I was just so grateful to be on TV, but I was also really struggling," she tells the July issue of Cosmopolitan magazine.
Article continues below advertisement
"Looking back, there was a connection, probably between any kid who's ever sang that song to Barney, a little place in a child's heart, a void, that could be filled. And maybe Barney fills it.
"Even before Barney, I was suicidal. I was seven. With Barney, I guess subliminally, I did have a relationship with this figure that was saving my life in a way… I've talked about being bullied and the years of being a teenager, but I went through things when I was younger that I've never talked about that probably caused me to turn out the way I ended up turning out."
Lovato, 20, says faith has helped her, telling the mag:
"I'm not super religious, but I grew up Christian and I believe in God. When I'm in L.A., I don't talk about it that much because people are very judgmental, but I just feel like God gave me a voice, not just to sing with. He put me through those things, which seemed horrible at the time, but they were so worth it. With the obstacles I've overcome, I can help people."
As portions of the interview were released Monday, Lovato sent this message on Twitter: "God has funny ways of teaching you things in life... But my Lord is GREAT!!!
"Life can be so difficult at times but fighting through the pain is so worth it. I'd rather feel every kind of emotion than not feel at all."
Cosmo goes on sale July 9.