Exclusive
Tom Cruise Used Intimidation Tactics To Squash Stories -- Read The Threatening Letters To Journalists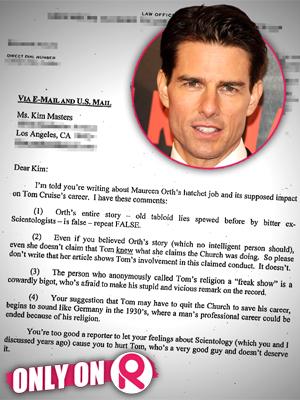 All publicity is not good publicity, as far as Tom Cruise is concerned.
As the actor continues to battle Bauer Media in a down and dirty $50 million lawsuit about stories published in In Touch and Life & Style, RadarOnline.com has obtained shocking new emails that prove his high-priced lawyers have repeatedly used similar legal intimidation tactics to attempt to squash other stories by journalists for The Hollywood Reporter, The New Yorker -- and more.
Article continues below advertisement
In September, 2012, Cruise's attorney, Bert Fields, sent a pre-emptive strike at Kim Masters of The Hollywood Reporter, who was preparing a story on the effect a recent Vanity Fair takedown piece on Scientology would have on Cruise's career.
"I'm told you're writing about Vanity Fair writer Maureen Orth's hatchet job and its supposed impact on Tom Cruise's career," Fields wrote in the document uncovered as part of discovery in his client's bitter case against the publisher.
Article continues below advertisement
"If you let me know in advance what, if anything, you are saying about Mr. Cruise in the book, I'll be glad to advise you whether or not it is true," he continued, threatening, "If you do not take advantage of this opportunity to avoid false and defamatory statements about Mr. Cruise, that, of course, will be evidence of reckless disregard. Of course, if the book does contain libelous assertions about Mr. Cruise, we will, at the appropriate time, file an appropriate action."
Article continues below advertisement
Article continues below advertisement
John didn't listen, continuing to make statements about Cruise, but the actor did not pursue legal action.
These emails came to light as part of discovery for Cruise's $50 million defamation lawsuit against Bauer Media.
In a video deposition for case that he sees media scrutiny as the price of fame. "Listen, I am a public person," he said. "I absolutely understand … I tolerate a tremendous amount, and I'm very privileged to be able to have the life that I have, and I believe that."
Cruise also said in the deposition that he was unaware of efforts by his counsel to leak stories to the press regarding Bauer's alleged ties to Nazism and did not authorize such questionably ethical tactics.