Tom Cruise To Protect Us From Aliens Within, Says Bombshell New Book About Scientology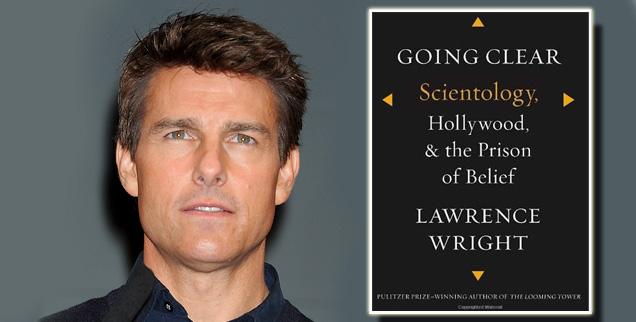 Tom Cruise has signed a billion year contract with Scientology, and has, like all members of the controversial organization, the ultimate goal of protecting humanity from aliens living in our bodies, aliens who are bent on destroying us and the planet, according to a blockbuster new book, Going Clear: Scientology, Hollywood & the Prison of Belief.
Written by Pultizer Prize-winning author Lawrence Wright, the book has been praised as a "feat of reporting" by The Wall Street Journal.
Article continues below advertisement
RadarOnline.com has previously reported on the upcoming tome, but now with publication just days away, more details about its stunning content are coming to light.
Cruise was introduced to Scientology when he was 23 by his first wife, Mimi Rogers, but it took several years for him to rise to the top within the organization.
He now believes, according to a New York Post read of Going Clear, that in the hierarchy of Scientology, he was No. 3, behind only the founder, the late L. Ron Hubbard (known as LRH) and No. 2 David Miscavige who goes by COB, for Chairman of the Board of the Religious Technology Center.
As Cruise would later scold his Scientologist girlfriend Naz Boniadi -- who came before now ex-wife Katie Holmes -- when she suffered through severe menstrual pain during dinner with Miscavige and therefore showed "disrespect" to both men: "You don't get it. It goes like this. First, there's LRH." Cruise had raised his hand in the air and lowered it as he counted. "Then, there's COB. Then there's me," The Post reports.
Article continues below advertisement
Over the course of the book, The Wall Street Journal writes, Wright explains how Scientology's adherents say it works: Members, including Cruise, use a practice called "auditing" and a device called the "E-Meter" to expel mental blockages supposedly left by traumatic experiences, with the goal of "going clear"—attaining an unimpaired state of being that will enable them to exert control over themselves and the world around them. That includes ridding humans of the aliens within them.
His status as a top leader has earned Cruise substantial benefits, the book says, including having his mansion renovated by dozens of very poorly-paid Scientologist workers.
Scientology officials have denied just about all of Wright's claims, calling many of them "pure fantasy."
None that seems to be distracting Cruise from his devotion to Scientology.
Cruise believes his true aim in life is to convert all nonbelievers into the church, which, according to Scientology, will result in Earth's salvation, the book says according to The Post. "Look," he said, "I wish the world was a different place. I'd like to go on vacation, and go and romp and play, you know what I mean? But I can't. Because I know. I know. I have to do something about it. You can sit here and wish it was different, but there's that moment where you go, 'You know, I have to do something. Don't I?' "