Exclusive
Move Over Gwyneth! Leaked Letter Reveals How Tom Cruise Went Nuclear On 'Vanity Fair' Over The Mag's Coverage Of Daughter Suri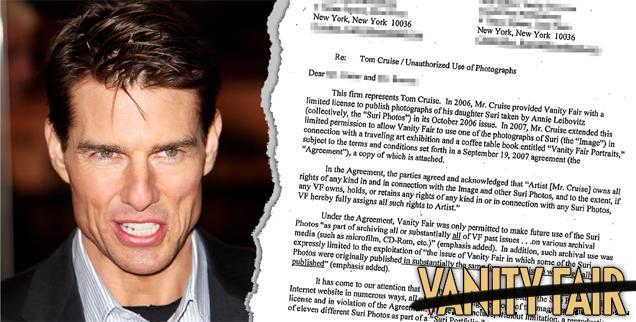 Gwyneth Paltrow may have found an ally in her campaign against Vanity Fair magazine: RadarOnline.com has exclusively learned that in 2012, Tom Cruise had his lawyers fire off a blistering letter to Graydon Carter, the magazine's Editor-in-Chief, and Christohper Rozvar, the Web Editor for VanityFair.com, over the publications use of pictures from his daughter Suri's first photo shoot, which appeared in the magazine in 2006.
Article continues below advertisement
At the time the photos were taken, Cruise "provided Vanity Fair with a limited license to publish photographs of his daughter Suri taken by Annie Leibovitz in its October 2006 issue," his attorneys explained in the letter dated September 25, 2012. The next year, that permission was extended for Vanity Fair to use one of the photographs from that series in a coffee table book, Vanity Fair Portraits.
But when pictures of Suri appeared on VanityFair.com years later, Cruise's team flipped out.
READ Cruise's Attorneys' Angry Letter to VF
"It has come to our attention that Vanity Fair is exploiting the Suri Photos on its Internet website in numerous ways, all of them exceeding the scope of the magazine's limited license and in violation of the Agreement," they warned.
The supposed violations including the seemingly innocuous use of eleven photos of Suri in a "Suri Portfolio" on the site, as well as a reproduction of the October 2006 cover photo featuring Suri as part of a retrospective of Cruise's Vanity Fair core appearances.
Article continues below advertisement
While those uses might seem innocent enough to the average reader, Cruise's lawyers were furious.
REVEALED: The Top 30 Secrets & Scandals Gwyneth Paltrow Doesn't Want You — Or 'Vanity Fair' To Know About
"Vanity Fair had no permission to use any of the Suri Photos in the above-referenced manner," they insisted. "…Vanity Fair's unpermitted use constitutes a material breach of the agreement and accordingly, Mr. Cruise has hereby elected to terminate, revoke, and rescind Vanity Fair's limited license to use the Suri photos."
As such, the lawyers demanded that Vanity Fair "immediately cease and desist all future reproduction, distribution, display, and other exploitation of any and all Suri Photos and in any and all media …"
If Vanity Fair were to use the photos ever again, the lawyers threatened to assist Cruise in obtaining up to $150,000 in damages per photo from the magazine.
"Please note that Mr. Cruise vigorously enforces his rights," they wrote, "and will not hesitate to do so when they are infringed."