Exclusive
Tom Cruise Questioned About Why He Was Absent From Daughter Suri's First Day Of School: If She'd 'Asked Me To Be There, I Would Have Been There,' He Insisted In Defensive Deposition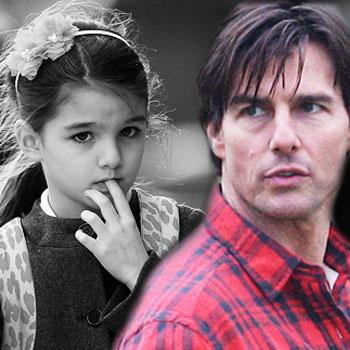 A highly defensive Tom Cruise downplayed the importance of attending a child's first day of school as being a phenomenen driven by parents, a transcript of a deposition he sat for in a libel lawsuit has revealed.
The Hollywood star, 51, was asked to explain why he'd choosen not to attend daughter Suri's opening classes at a New York private school, last year.
"I think parents sometimes think it's (a big day)," the Hollywood megastar told lawyers representing two magazines he's suing for libel over reports that he had "abandoned" Suri, following his divorce from ex-wife Katie Holmes last summer.
Article continues below advertisement
"Kate and I both knew that I wouldn't be there," Cruise said, according to a transcript of a September 9 interrogation that was held at the officers of the actor's lawyer.
EXCLUSIVE DOCUMENTS: Read Tom Cruise's Angry Deposition As He's Questioned About Suri, Scientology & Ex-Wife Katie Holmes
Cruise was probed further:
Q: Because she didn't ask you, you weren't there?
TC: Well, it's also something where -- I think the press and everyone -- there are many different circumstances with that. One if the circus of Suri's first day of school that the press wanted, and Kate and I discussing kind of what is best and how we do it, and of course, there is the media attention. As I said, everything -- look we do the best we can try to think about things and mitigate that stuff as best we can.
Article continues below advertisement
Q: Do you recall any discussion with her (Holmes) about whether -- whether she wanted you to be there, whether Suri wanted you to be there?
TC: Suri never mentioned it.
Q: She never mentioned that she wanted her daddy to be there.
TC: No.
Q: -- for the first day of school?
TC: No, she didn't.
Q: She hadn't been to school before, had she?
TC: No.
Q: So this was truly her first day of school?
TC: Yes.
Q: Unlike most of the other kids who were starting who were first graders and had been to kindergarten and preschool?
TC: Yes.
Q: Did you promise Suri that you were going to be there for the first day of school?
TC: No. No. Everything with my kids if I promise them I'm going to do something, I do it.
Suri, 7, attends a $40,000-a-year private school located not far from the Chelsea, Manhattan, apartment where she lives with her mother.