Exclusive
Inside Tom & Katie's Divorce War: Leaked Emails Reveal 'Team Cruise' Accused Holmes Of Smears, Dirty Tricks… And Having A Hotline To The Paparazzi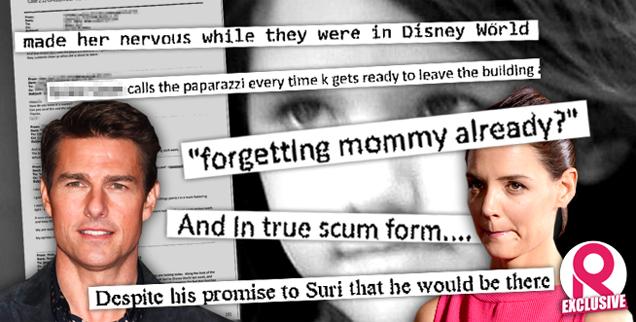 Article continues below advertisement
Article continues below advertisement
What's more, Cruise confidantes believed Holmes was desperately trying to discredit her former husband, even going as far as to enlist the help of a pal, Jeanne Yang — the stylist-to-the-stars and co-owner of Holmes & Yang fashion line — to be the middle-man who would trash Cruise to various media outlets.
"Which will only cause Jeanne Yang to keep lying and speaking and keeping these stories going each week," Cruise's publicist, Amanda Lundberg, bemoaned to the actor's team in one email chain, including his sister Lee Ann De Vette.
"A very good friend/editor slipped and said her name to me on Monday," Lundberg added, explaining how she knew Yang was the apparent leak.
"Two good sources told me it is all her… She likely told the press that they stayed at Cinderella's castle as no one really knew... Every single person tells me she is speaking to the press constantly."
But according to Cruise's entourage, it wasn't just Yang who was helping to restore Holmes' image. It was alleged in the emails that Holmes' own team of publicists had a hotline to New York-based photographers and would call as soon as the ex-Dawson's Creek star planned on leaving her Chelsea apartment building.
Article continues below advertisement
"Katie's publicist calls the paparazzi every time K gets ready to leave the building as the doormen are always surprised how they suddenly show up when she is about to leave," Lundberg alleged, in another email.
And as the stories kept coming, Cruise's people became even more incensed.
When presented with a story that Bauer planned to publish about Suri being scared for her first day of school because her father made her nervous by telling her she'd have to follow rules and listen to her teachers, Cruise's legal team fired back calling the accusations were "outrageous" and "defamatory."
A lawyer, Aaron Moss, wrote how the claims were "completely, 100% false. Mr. Cruise never made these statements, nor did he make any other statements that were intended to scare or did scare his daughter about school.
"As Mr. Cruise would obviously be one of the only two people involved in this fictional 'conversation' (the other being his daughter), he of course is in a position to know the truth."
Article continues below advertisement
The blame again fell on Yang as the whistleblower and Cruise's team unashamedly announced it was convinced Holmes' team was purposely putting out false information.
"JY Jeanne Yang again. At this point she and they are involved in a conspiracy," one email blasted. "They know she's making this bs bullsh*t up."
At that point, Cruise's high-priced attorney even suggested they needed to send a legal letter to Holmes' team in an effort to muzzle the leaks and smears!
Said one aide, "If you're right, I think it's time that he sent a letter to KH's lawyers about Yang."
However, the final straw was still to come: Bauer Media sought comment from Cruise's camp in September 2012 about him missing Suri's first day of school, which supposedly left Holmes deeply upset.
The potential for the story to be exposed prompted the Oscar-nominees' team to reach out to his ex-wife's team in an effort to stop the blood-letting, once and for all.
Article continues below advertisement
"I think this is getting more disgusting if that is even possible. And this should be curbed whenever possible — their daughter doesn't deserve these incessant lies," a defiant Lundberg wrote to Holmes' rep, Nanci Ryder, in another email.
"Can you guys comment and deny this as we all know this is not true. I think that would help stop this which of course is in Suri's best interest as well.
"He would never make a promise he wouldn't keep and he knew where he would be," Lundberg explained, noting Cruise was filming in London at the time.
"Plus even if a promise was made — the only person who would know that are T, S and K Tom, Suri and Katie so we know this didn't come from them right?"
Previously revealed in the cache of explosive court documents, after Holmes "blindsided" Cruise with the divorce last year, the Scientology posted-child finally admitted what many have long speculated -- that she did it, at least in part, so that she and Suri could leave the controversial religion.
"Ms. Holmes has never indicated in any way that was one of the reasons she left you? …To protect Suri from Scientology?" lawyers asked Cruise in a deposition, a transcript of which RadarOnline.com obtained.
Finally, Cruise conceded: "Did she say that? That was one of the assertions, yes."