Katie Holmes Appears Relieved As News Breaks Of Divorce Settlement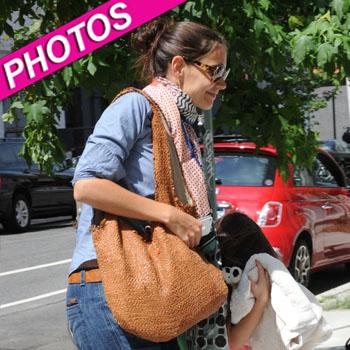 On the same day news broke that Katie Holmes and Tom Cruise had settled what could have been one of Hollywood's nastiest divorces, the soon-to-be ex Mrs. Cruise looked relieved as she and daughter Suri went to the Children's Museum of the Arts in Manhattan Monday, and we've got the pics for you right here on RadarOnline.com.
Katie wore a blue shirt, multiple scarves and jeans, while Suri -- appearing shy as she hid her face -- wore a pink dress.
Article continues below advertisement
As we previously reported, attorneys for Holmes, 33, and Cruise, 50, Monday announced the pair had reached an amicable agreement in their split. The couple said in a statement: "We want to keep matters affecting our family private and express our respect for each other's commitment to each of our respective beliefs and support each other's roles as parents."
Suri will stay with mom while dad will have regular visitation.