RFK Jr.'s Secret Diary Surfaces: Exposes 37 Affairs, Fierce Jabs At Rev. Al Sharpton, Jesse Jackson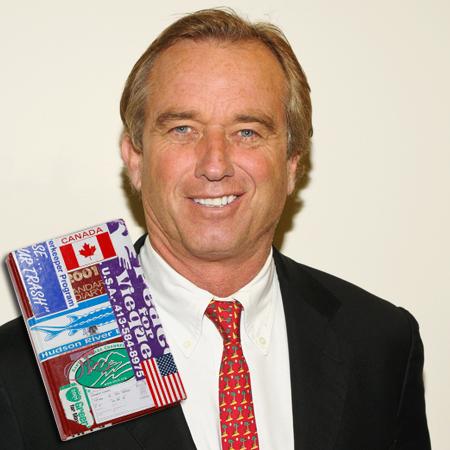 Excerpts from a 398-diary belonging to Robert F. Kennedy Jr. have been published by the NY Post, exposing some of the heir's sexual conquests and political rivalries, and we've got all the details for you right here on RadarOnline.com.
The journal keeps track of RFK Jr.'s goings-ons in the year 2001, and he kept a detailed log of his lovers in that time (during his marriage to the late Mary Richardson Kennedy). He kept a number key to classify how far his sexual encounters went, with the number 10 signifying intercourse, the paper reported, citing a source close to his late ex-wife.
Article continues below advertisement
In the diary, Robert, now 59, named 37 women, giving 16 of them "10" codes. The paper reported that the handsome Kennedy heir's lovers included "a lawyer, an environmental activist, a doctor and at least one woman married to a famous actor."
On days he did not cheat on his wife, the guilt-racked Kennedy -- who referred to his raging libido as his "lust demons" -- would submit an entry simply stating "Victory."
Article continues below advertisement
Kennedy predicted Cuomo could fail at his (then-unsuccessful) gubernatorial campaign "because he lacks humanity and doesn't love people," and "is not a retail politician."
He said that Sharpton and Jackson "give him the creeps," adding that Sharpton "has suffocated the decent black leaders in New York. His transparent venal blackmail and extortion schemes taint all black leadership."
Kennedy said that Jackson possessed "a desperate and destructive addiction to publicity," recalling an incident at Cesar Chavez's funeral when Jackson pushed "Cesar's friends and family out of the way to make himself lead pall bearer."
"His love affair with Louis Farrakhan and his Jewish xenophobia are also unforgivable," he added of Jackson. "I feel dirty around him, and I feel like I'm being used. I feel like with Jesse, it's all about Jesse."
Asked about the diary's existence by the paper on Friday, the political heir did his best to distance himself from the salacious tome.
"I don't think there is any way you could have a diary or journal of mine from 2001," Kennedy told the paper. "I don't have any comment on it. I have no diary from 2001."
He later changed his statement in an e-mail, saying the diary was "illegally stolen" from him.
"The diary served as a tool for self-examination and for dealing with my spiritual struggles at the time. It also contains unedited, unfiltered stream-of-consciousness musings about current events and people.' Nothing in that diary was ever meant for publication.
"I have nothing but respect for Governor Cuomo, Rev. Sharpton and Jesse Jackson, all of whom have distinguished themselves as extraordinary national leaders over the past decade."