RFK Jr. And Mary Richardson's 'Green House', New Details On Demands Made For Free Products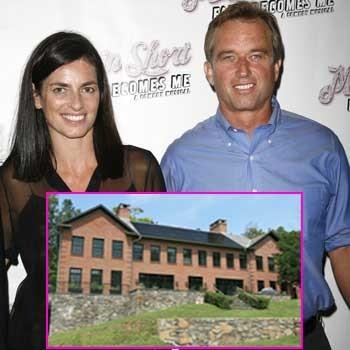 The story behind the construction of Robert Kennedy Jr. and Mary Richardson's so-called 'Green House' is getting murkier by the day.
As RadarOnline.com previously reported, several years before her tragic suicide, Richardson worked with interior designer Robin Wilson on the reconstruction of their Bedford, New York home, with an emphasis on getting it done as close to free as possible.
Article continues below advertisement
The promised "compensation" for the "donated" goods was to be free publicity, mentions in a book called Kennedy Green House and inclusion in a NBC special about the project.
Free Benjamin Moore paint for the mansion was requested plus an additional quantity was demanded for their vacation house in Hyannis Port, Mass., and a float in the village's annual July 4th parade, a source told The New York Post.
$350,000 worth of energy-efficient windows were also demanded free from Marvin Windows and Doors, another source told The Post, but the company would not do better than give the Kennedy project a $120,000 discount.
"Robin Wilson kept saying, 'If you don't thoroughly donate the windows to us then we are going to completely omit the fact that you were even a part of this project,' " a source familiar with the construction work told The Post. "Despite the hard sell from Wilson and Mary Richardson Kennedy, the window distributor refused to budge. This was purely a scenario of someone just trying to take advantage of their status, and it was almost to the point of grotesque. There was a complete abuse of power."
Article continues below advertisement