Celebrating MLK Day, Seven Things You Didn't Know About Martin Luther King Jr.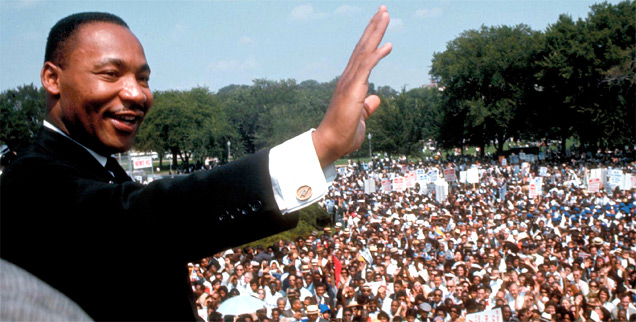 As the country aptly celebrates the second inauguration of President Barack Obama on Martin Luther King Jr. Day, RadarOnline.com has a run down of the man who paved the way for so many African Americans after him.
1. Born in Atlanta, Georgia on January 15, 1929, the 'M' in MLK originally stood for Michael, but when his reverend father changed his own name to Martin in honor of Protestant leader Martin Luther, his six-year-old protege's was altered too and the Martin Luther King Jr. legacy began.
Article continues below advertisement
2. As a member of his church choir, young Martin got his first taste of stardom in 1939 when he sang at the Atlanta premiere of Gone With The Wind, which is set on a plantation in Georgia during the American Civil War .
While no one publicly objected at the time of its release, the classic film has been criticized in recent Civil Rights Movement studies for portraying an idyllic image of slavery. "The white women are elegant, their menfolk noble or at least dashing. And, in the background, the black slaves are mostly dutiful and content, clearly incapable of an independent existence," wrote Professor D.J. Reynolds.
3. Described by classmates as "a precocious student," MLK skipped grades 9 and 12 to enter Morehouse College at age 15 without ever even formally graduating from high school, and earned a Bachelor of Arts in sociology, and then a Bachelor of Divinity from Crozier Theological Seminary in Chester, Pennsylvania . His wedding night following the 1953 marriage to Coretta Scott clearly highlights the inequality of the era as the couple were unable to stay in a white-owned hotel and were forced to spend their first night as husband and wife in a black-owned funeral home.
Article continues below advertisement
4. A visit to Mahatma Ghandi's birthplace in India in 1959 propelled his life quest for non-violence resistance as a way to forward his battle for civil rights and the belief that non violent protest was the "most potent weapon available to oppressed people in their struggle for justice and human dignity." The trip was just one of many in his quest for equality, which would span over six million miles and include 2,500 speeches.
5. Widely hailed as a masterpiece of rhetoric, King's legendary I Have A Dream speech invokes the Declaration of Independence, the Emancipation Proclamation and the United States Constitution in its 17-minute duration, which was delivered on August 28, 1963, and has been repeated millions of times since by supporters around the world despite remaining under copyright until 70 years after King's death (which will be 2038.)
Article continues below advertisement
In the wake of the speech and the great march on Washington, King was named Man Of The Year by TIME Magazine and became the youngest person ever to win the Nobel Peace Prize in 1964 at age 35.
6. MLK's final words were uttered on the balcony of the Lorraine Motel in Memphis, Tennessee, where according to Rev. Jesse Jackson, he instructed musician Ben Branch to "make sure you play Take My Hand, Precious Lord in the meeting tonight. Play it real pretty." A shot then rang out on the motel's second-floor balcony, with the bullet entering through MLK's right cheek, smashing his jaw, then traveled down his spinal cord before lodging in his shoulder. Following emergency chest surgery, Martin Luther King Jr. was pronounced dead at St. Joseph's Hospital at 7:05 p.m on April 4, 1968.
According to biographer Taylor Branch, his autopsy revealed that though only 39 years old, he "had the heart of a 60 year old," which Branch attributed to the stress of 13 years leading the civil rights movement.
7. MLK's legacy continues to live not only on the national holiday that has been dedicated to him since 1983, but in city planning across the country. There are 900 streets named after Martin Luther King Jr. around the world, and 40 U.S. states have at least one road named after the iconic civil rights campaigner.