Second-Grader Causes Outrage By Donning Black Face To Honor Martin Luther King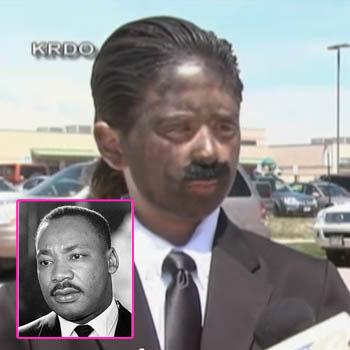 By Debbie Emery - Radar Reporter
A second-grade boy who went to school Wednesday in black face for a project honoring Dr. Martin Luther King Jr. has caused outrage among civil rights groups.
Sean King was taking part in his Colorado Springs school's living wax museum and was assigned to play the part of Dr. King, reported KKTV.com, but his face paint shocked his teachers so much that he was ordered to take it off or leave.
Article continues below advertisement
"They wanted me to clean up immediately or leave," revealed Sean, who was there with his parents, Michelle and Anthony King who were expecting to proudly watch his performance and were instead sent to the principal's office after an employee took offense.
Michelle said she didn't even give the controversial costume a second thought and never imagined it would upset anyone. "It's embarrassing. It's sad for the kids and sad for Sean because he's a very good student. He really thinks of school very highly."
The upset mom took Sean from school after he was threatened with punishment, but assured classmates that he will be back to finish up the school year.
While his family didn't understand what the problem was, Steve Klein from the King Center in Atlanta told KRDO.com that, "there are still people who are offended by black face worn by white people.
"The issue here is stereotyping. A lot of African Americans find minstrel or black face stereotyping black people when it was done decades ago," he explained, adding: "There is a disconnect here that young people need to know their history a little better."
Article continues below advertisement